Saturday Late Morning/Early Afternoon Falcon Watch - 1/24/15
By Rochester Falcon Watcher Carol P.
They promised a bit of sun, but when it came, it didn't stay out long.  So my watch conditions were cold (temps mid-20's), damp and overcast.  That's January in Rochester for you.  lol
I started my watch at 11:00 am and ended it at 3:00 pm.  I made the rounds, starting at the west end of Kodak Park.  No falcons there, but I was happy to see a beautiful adult Red-tailed Hawk hunting over the field in front of me.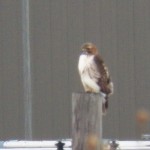 *
*
*
*
*
My next stop was the BS location.  All was quiet, except for a few noisy Crows.
On my way downtown, I stopped on Exchange, south of the Times Square Bldg (TSB).  From there, I could see both Beauty and Dot.ca.  They were on the TSB, Beauty below the NE wing and Dot.ca (DC) under the SE wing.
*
*
*
*
I moved on to the Broad St Bridge which was quickly filling up with Razor Shark fans.  Beauty flew over to join Dot.ca on the southeast wing ledge.  Both had very full crops.
*
*
*
*
I got out of my car to check out the river, which was half iced over.  The gulls were enjoying it, but I saw no ducks.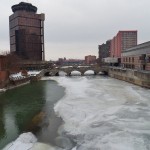 *
*
*
*
*
While I was watching the life on the icy river below, Beauty took off and flew over me heading east.  She flew past the old Midtown Plaza.  A few minutes later she returned, landing next to Dot.ca on the TSB.
*
*
*
*
I moved down to Aqueduct St (aka "the hole") for a different view.
*
*
*
*
*
*
*
*
Beauty approached Dot.ca and spread her wings.  She launched herself from the building and flew south over Cornhill. Moments later she returned and knocked Dot.ca off his spot.
*
*
*
*
Dot.ca flew to the OCSR and up into the elevator shaft.  Before I left downtown, I checked on Dot.ca and found him on the north ledge of the elevator shaft.  I left him there and Beauty on the southeast wing ledge to continue my falcon search.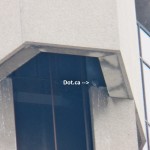 *
*
*
*
*
I drove past Hawkeye and saw no falcons hanging out at the nest box located there.  So I continued on to Seneca Towers.
There I found a falcon eating on the northwest corner.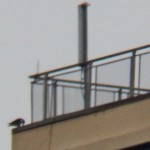 *
*
*
*
*
From the north side of the building I saw a 2nd falcon, waiting patiently for a bit of food.  Assuming that this was Billie and 99, Billie was the one with the food on the corner and 99 was the one waiting patiently.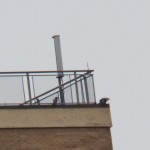 *
*
*
*
*
I left them to their dinner and continued on.  There was no falcon at Russell Station and no Snowy on Buck Pond.
I was very happy to have seen all 4 Rochester falcons.  All was peaceful and quiet.