Friday Late Afternoon Falcon Watch - Rain and T-Storms - 5/10/13
By Rochester Falcon Watcher Carol P.
Warm air and dark clouds were moving into Rochester.  I decided to head downtown directly from work.  I knew I didn't have long before the rain moved in.
I arrived downtown just before 4:00 pm and was happy to see that the Broad St Bridge (BSB) was empty, well except for a few parked cars.  For the last 10 days, all the bus traffic was rerouted from Main St to Broad St due to the Spiderman 2 filming on Main St.   So, for the last 10 days, the falcon watchers had not been allowed to park on the BSB.  It was good to have it back.
After parking on the BSB, I looked all over hoping to spot a falcon.  I wasn't sure who was in the nest box brooding the eggs.  Many thanks to Forum Falcon Watcher Annette for tweeting out that it was  Dot.ca in the nest box.  I looked all over for Beauty, but could not find her.  So I decided to go over to the BS location.  At 4:15 pm, I circled the building a couple times and did not see or hear Pigott or any other falcons.  That is not to say she wasn't on the building somewhere.  The Canada Geese were again honking loudly.  Time to head back downtown.
At 4:40 pm, I was back on the Broad St Bridge, facing east, when I spotted my first falcon of my watch.  I knew that Dot.ca was in the nest box, so this had to be Beauty.  She was soaring gracefully over the downtown buildings, stretching her wings and possibly on a hunt.  She flew high above the Xerox Tower before turning back towards me, heading for the Times Square Bldg. (TSB)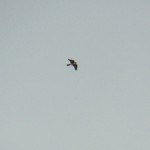 *
*
*
*
*
Beauty flew over me and up to the TSB where she landed on the nest box platform.  Within a couple minutes, Dot.ca got off the eggs and flew out of the nest box, landing on the Mercury statue's moneybag hand.  Beauty went directly into the nest box to take her turn at brooding the four eggs.
*
*
*
*
The dark clouds approached from the west, behind the Times Square Bldg.  When they arrived, it started to pour.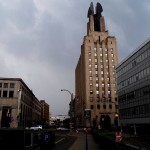 *
*
*
*
*
After it started to rain, Dot.ca took off.  I did not see where he went. (4:53 pm)
I remained on the Broad St Bridge, facing west, towards the Times Square building, waiting to see if Dot.ca would return.  He did not while I was there.  Fellow Falcon Watcher Pat  walked by on her way home.  She stopped for a few moments to chat and then went on her way.
The rain continued, so at about 5:15 pm, it was time for me to head home.  On my way home, it started to thunder and lightning.
I saw only Beauty and Dot.ca during my short, late afternoon watch.  Hopefully I will see Pigott tomorrow.
I'll leave you with a few pics I took during my watch.
I couldn't believe how low the Genesee River had gotten, since the last time I saw it.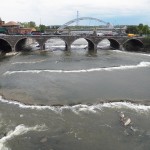 *
*
*
*
*
The base of the Main St Bridge is congested with all kinds of trees and limbs.  They will really need to clean up this area soon.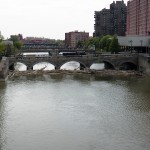 *
*
*
*
*
Last, it was the first day of the Lilac Festival at Highland Park.  From what I've heard, the lilacs are blooming and ready for their many fans from around the world to view them and to smell their lovely fragrance.  I do love the Lilac Festival!  If you go, have a wonderful time!