Morning watch 5-20-13
By Rochester Falcon Watcher MAK
We're having a heatwave-it was 64 (F) 18 (C) with clear blue skies and no wind
I began my watch at 5:15am and from the hole I spotted Dot.Ca (DC) on the south corner of OCSR top ibeam. Around 5:30am he flew over to the Times Square building (TSB) and landed under the northeast wing.
He flew east half hour later and that's when I decided to go find Pigott whom I hadn't seen since last Thursday. Good thing I went when I did for as I arrived she was on the southwest corner of the southwest extension and she took off into a stoop almost immediately to the southeast. She returned 5 minutes later landing on the west end of the south side vent and flew off a few minutes later to the southwest. I was very pleased to have seen her after a few day dry spell.
Pigott didn't return so I went back downtown where I found Beauty on the base of Mercury plucking feathers. Campgee and Annette had tweeted that a switch had been made.Thanks ladies!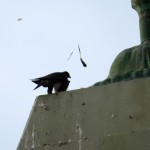 The Beautyful one spent half hour eating and then she flew off to the back of TSB and cached leftovers on the 2nd to last column on the north side. She then flew back to the base of Mercury where she was joined in the air by DC. Beauty flew to the nest box and DC landed on the heel of Mercury.
DC spotted a few leftover morsels and flew down to the base to eat them.
I walked down to Aqueduct Park to get up close and personal with Mr. DC and it was a very peaceful place today that I really enjoyed watching from. Of course at 7am the city hustle and bustle hasn't quite kicked into high gear yet. I watched DC until he flew off to the north at 7:40am. I thought since it was such a beautiful  morning  instead of driving down State St. to look for DC I would walk across Main St. down the Genesee Riverway behind OCSR. The following pic is a stamp on the sidewalk by OCSR just before you walk down the steps to the river side sidewalk.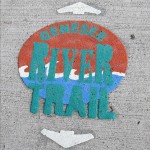 I found DC on the 2nd ibeam north corner of OCSR directly above me he was cleaning himself up after eating-he has such good etiquette.lol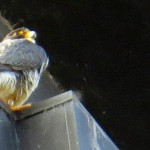 You must click on my pics to get the full version

I plopped myself down on a cement pillar type thing and had a look around-it had been a long time since I had been down there to watch our beloved falcons.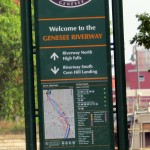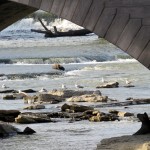 <This pic is under the Broad St. bridge to the south side of it
I walked up on the Sister Cities Pedestrian Bridge that connects the east to west over the river. Someone had poured potato chips and popcorn in the middle of the bridge for the pigeons and gulls. I think cracked corn would be better! So everything was calm with DC  watching the north part of the territory and Beauty on their eggs. I called it a watch and headed home smiling for having had such a nice little morning watch with nature in downtown Rochester!

Below I have provided links for a photo album and many videos for your viewing pleasure
http://share.shutterfly.com/action/welcome?sid=0AaN3DFm0ZMWqiD0
http://youtu.be/DvygyPnOLbk
http://youtu.be/eRRWc9FqIco
http://youtu.be/BLBnvH6zlUI
http://youtu.be/G8L6v_xee08
http://youtu.be/5-9a71wBhhY
http://youtu.be/VAqIz3JQ7HY
http://youtu.be/QxK4o6xAHro