Sunday Early Afternoon Falcon Watch - All Adult Rochester Falcons Seen - 9/8/13
By Rochester Falcon Watcher Carol P.
(12:30 - 2:30 pm)
It was a much cooler day today, temps around 60 degrees (F), but the sun was shining the the sky was blue with fluffy clouds.  Just perfect weather to get out and see some wildlife.  I actually started my day by checking out Braddock Bay and one of my favorite spots, Hogans Point.  I just love that area.  It never fails that I meet someone new when I visit there and today was no exception.  I also met fellow Falcon Watchers Dana and Lou there. I'll post some pics at the end of this report.
I didn't get downtown until 12:30 pm, checking out the Hawkeye plant first.  Again, no falcons seen there.  I'll definitely keep including this location on my falcon watch travels in hope of seeing a juvie there again soon.
Next stop, downtown Rochester, where I found Beauty under the platform on the Frontier Communication Tower (FCT).  It took me awhile to find her, she was well hidden on the south side.  If she hadn't moved around, I might have missed her.
*
*
*
*
Beauty had been moving around a bit and flew off and back on before settling in for a nap.  It was a good time to continue my search.  On my way down Fitzhugh St., I stopped to take a picture of an old building that I have always admired.
*
*
*
*
I moved on to check out the rest of the downtown area, ending up on the Broad St Bridge, where I found the adult Black-crowned Night Heron dozing.  I checked out the river to see if the juvie was fishing, but could not find it.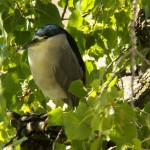 *
*
*
*
*
I had no luck finding Dot.ca, so I headed over to the BS location where I found Pigott sleeping on a window on the west end of the building near her cubby.
*
*
*
*
Seemed to be a sleepy afternoon.  lol  I left Pigott to her nap and went back downtown to continue my search for Dot.ca.  Finally, I found him on the north side of the OCSR, top Ibeam, near the north corner.  Just a few feet from where he was yesterday.  He was not there when I checked earlier.
*
*
*
*
It was time for me to end my Watch, but of course I had to check out the Hawkeye location on my way home.  Again, no falcons found.
REMEMBER TO CLICK ON ANY PICS YOU WOULD LIKE TO SEE LARGER
I was happy to have found all 3 adult Rochester Falcons doing well.
I'll leave you with some pictures of my morning trip to Braddock Bay and Hogan's Point.  Hope you enjoy!  Have a nice day everyone!
Braddock Bay
*
*
*
*
*
*
*
*
Hogan's Point
*
*
*
*
and here's my special new friend Happy, a 16 year old puppy.  :)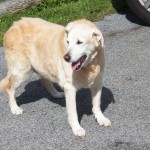 *
*
*
*
*