Monday Evening Falcon Watch - Only One Falcon Found - 9/9/13
By Rochester Falcon Watcher Carol P.
(6:30 - 7:45 pm) (69 degrees (F)
Very short Falcon Watch for me tonight.  I wasn't able to start my watch until 6:30 pm.  First Hawkeye; no falcons found.  Next downtown; at first no falcons found.  I cruised the downtown area checking every building, ending up on the Broad St Bridge (BSB).  Finally, at 7:11 pm, I spotted a falcon on the jail communication tower about half way down on the south side.  Based on size, I believe it was Beauty, but I can't be sure.
*
*
*
*
From the Broad St Bridge, I found the adult Black-crowned Night Heron (BCNH) fishing on the river on the north side of the bridge.  After spotting the adult, I saw the juvie BCNH fly south down the river towards Court St.  It was their time to hunt.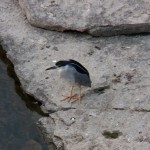 *
*
*
*
*
Fellow Watcher Joyce tweeted that she was at the BS location and that she had been unable to find Pigott.
When I left downtown, the temperature read 69 degrees (F).  It is going to get very hot and humid tomorrow, with temps over 90 degrees!  Crazy weather.  Keep cool everyone!
On my way home, I did check Hawkeye a 2nd time.  It was getting dark at 7:45 pm and I could see no falcons there again.
I ended my watch with just one falcon sighting.  Have a nice evening everyone!
Here's a picture of the sky behind the Times Square Bldg, taken from the Broad St Bridge.  I reminded me a Maxfield Parrish painting.  Just beautiful!