Morning watch 9-10-13
By Rochester Falcon Watcher MAK
I left the house in the midst of a thunder storm and very dark conditions. The temperature was 69 (F) 21 (C) and quite humid.
It was a tough morning to find falcons in our fair city due to the weather conditions so I took a ride to Hawkeye hoping  to see a juvie. I parked in the YMCA parking lot and scoped out the stack and south and east sides of the building. I then drove across the Driving Park Bridge and as I came up to Carthage St. at the east end of the bridge I spotted a juvie riding the breeze above me.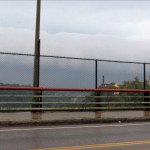 Pics as I crossed the Driving Park Bridge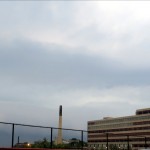 Click on pics for full version
I pulled down Carthage and watched it as it glided south, never flapping its wings once and disappearing behind the trees along the river. I tried to find a clearing to see if I could find it again but no such luck. I went back to the YMCA and watched for about 15 minutes and then went back downtown.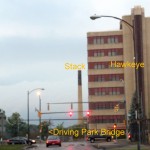 Looking north from Carthage St.
I returned via St. Paul St. to the Andrews St. bridge where I spotted a falcon on the northeast side top ibeam of OCSR. I drove over to Bragdon St. where I was able to ID it as Beauty.
I left Beauty to go check the Brighton Site (BS) and as I was stopped at the traffic light at Broad and South Ave. I spotted 2 falcons circling Bausch & Lomb. As the light changed they flew above Xerox and then I lost them behind buildings. I checked the area but couldn't find them again. I thought one of them must have been Beauty as I went back to check OCSR and she was gone. Most likely the other one was Dot.Ca (DC). So I continued on to BS arriving just in time to see a falcon fly from the front edge of the cubby up to the west side roof of the west extension.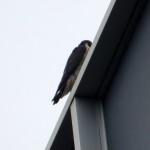 This falcon looked small to me when it flew off just seconds later and went to the east end of the building before disappearing so I think it was DC. There were dark wing tips hanging over the front edge of the cubby-cached food left for Pigott by DC perhaps.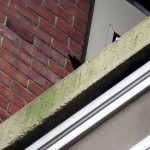 I made a couple trips around the building but didn't find a falcon. I returned downtown after receiving a tweet from Shaky that a falcon was on the northeast cube of the  Frontier Communications Tower (FCT). Thanks Shakymon! When I arrived it was still there showing its back to the world. I parked on Fitzhugh St. across from the Hochstein School of Music parking lot and next to the Sister Cities Parking Garage for the best view of Beauty.
Soon after, the Beautyful one turned around facing east so I drove down to the north end of the City Hall parking lot to see the front of her.
Even in the dark conditions Beauty was looking lovely this morning. She didn't stay this way for long and when she turned around again showing me her back I decided to end my watch after I checked Hawkeye one more time'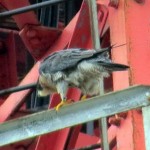 I didn't find any falcons at HE and so I ended my watch at 9:30am. Seeing Beauty this morning after not finding her on yesterdays watch made me smile!

Check out the links below by clicking them
http://youtu.be/r3R68OYvuPg
http://youtu.be/SQZUuID0GlU
http://youtu.be/8Pm4uk9MXc8