Morning watch 9-18-13
B y Rochester Falcon Watcher MAK
At 43 degrees (F) 6 (C) there was a bit of a chill in the air as I started my watch at  6:35am. There were virtually no clouds in the sky as the sun shone brightly when it arose from its slumbers!
As I checked the Frontier Communications Tower (FCT) first right off the 490 ramp I saw no falcons. I continued on checking the downtown area and ended up spotting Beauty on the northeast cube of the FCT from the Andrews St. bridge. I drove over and parked on Fitzhugh St. in front of the Sister Cities parking garage for the best view.
I left her after 10 minutes to check on the Hawkeye site but there were no juvies to be seen so I returned to FCT and Beauty who was in the same spot.I spent over half hour with her as she mainly looked around her surroundings (and for DC too I think),poop,stretch and just look Beautyful.
She also made a lot of gestures with her BYFs (big yellow feet) which are always fun to see and one goofy looking pose!
I departed around 8:30am to have a look/see over at the Brighton Site (BS) and came across Pigott and her better half Dot.Ca (DC) on the south side vent. She was on the west (left) side and he on the east (right) side looking very bright white with the sun on them and both had full crops.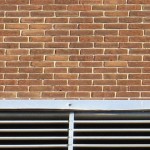 <Click it and 2 PEFAs will appear Pigott>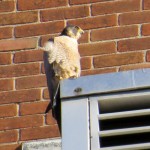 DC>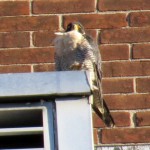 DC had a lot of  BYF gestures as well and Pigott mainly looked at DC and whined while he turned away from her when she did. lol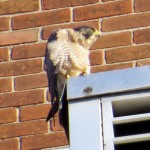 <Don't you ignore me buster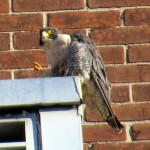 <Guess I better do what she says
One of the starlings from the roof flew down and got awful close to DC and slammed on the brakes in mid air!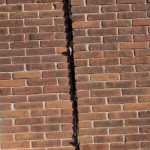 <Click it
A few minutes later Pigott shot off the vent like a torpedo and flew to a west facing top window on the southeast extension where it meets the main building and started to whine in earnest. DC couldn't take it anymore and a few minutes later flew over and joined Pigott and they had a chup fest for less than a minute. Echup,echup,echup!
DC flew off while I was taping- I didn't follow him and thought he left as I kept the recording going and fixed on Pigott. She watched him fly back and land on the window directly below her. The little sneak!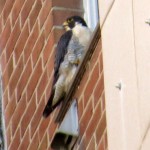 <DC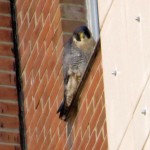 <Pigott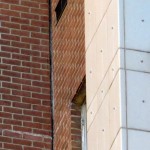 <Click to see both
This is how I left them after spending a solid hour at BS. I returned downtown and found Beauty on the northeast side  top ibeam of OCSR from the Andrews St. Bridge.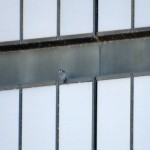 I shot over to Hawkeye for one more try but no falcons of any kind were seen so I ended my watch at 10am. All 3 resident adult Peregrine Falcons were seen and doing well on my watch sending me on my way with a smile on my face!

Click on the links below to view more pics and videos
http://share.shutterfly.com/action/welcome?sid=0AaN3DFm0ZMWqiq6
http://youtu.be/BiQxFo9ue3A
http://youtu.be/0ogMjBkQol0
http://youtu.be/8IlBToou7Qk
http://youtu.be/oWVkVXzFuVI
http://youtu.be/2qu1NxjgGmc
---