Morning watch 9-21-13
By Rochester Falcon Watcher MAK
At 68 degrees (F) 20 (C) I didn't need a jacket when I stepped out the door today. It was overcast and got darker as time went on with a line of rain moving our way promising to bring cooler temps making for bad picture taking conditions. By the end of my watch it had made its way to Rochester dropping rain down on Beauty and I.
My first sighting today was at 6:50am when I spotted Dot.Ca (DC) on the top ibeam north corner of OCSR-his favorite morning perch.
I left to check Hawkeye and when I couldn't find any PEFAs I returned to downtown finding DC to still be on OCSR.  Beauty was on the northeast cube of the Frontier Communications Tower (FCT) her favorite perching spot on the tower lately. I parked in the Hochstein School of Music parking lot to watch.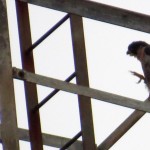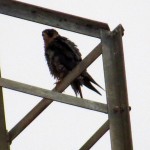 Click on pics for full version

The Beautyful one stayed about half hour preening, scratching and looking around, then she flew off to the southeast at 7:45am.
I quick drove over to State St. just in time to see DC fly off OCSR to the southeast as well-so guess what direction I flew off in!? lol As I drove across the Court St. Bridge I spotted DC up on the southwest corner of Xerox, our tallest downtown building. I made my way over to Woodbury St. and parked in the parking lot next to the Geva Theater.
DC stayed there for 5 minutes then he flew back to the southeast corner of Xerox and that's when I noticed Beauty on the 5th column from the southeast corner below him.
As I took a pic with both Beauty and DC in it she decided to fly off her favorite Xerox perch heading southwest and DC followed right behind her out of my view.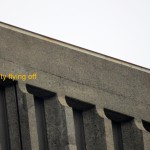 <Click it
I got a tweet from Larry that there was a falcon under the northeast wing of the Times Square building (TSB) so I drove over that way. I pulled into the parking lot next to the TSB so I could see the front of DC who was under the wing and then I glanced over at Widows Walk where I spotted Beauty on the north side railing. These two were playing cat and mouse with each other and MAK was right along with them! lol
I drove over to Broad and Fitzhugh to see the front of Beauty but she flew off while enroute so I took a ride to Brighton, arriving around 8:30am. Pigott was not there so I returned to downtown via Clinton Ave. and spotted Beauty on the southwest corner of Xerox. Once again I parked in the parking lot next to Geva Theater to share space with Beauty.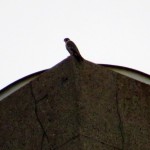 I then drove to Chestnut St. and parked in front of Manhattan Square Park where I had a better angle on Beauty.
It started to rain at a pretty good clip so I left to check on the Hawkeye site one more time before calling it a watch. I looked for DC on the way thru downtown but I didn't find him nor did I find anything at Hawkeye thus ending my watch at 9:30am. Keep smiling!

Click on the links below to view my videos
http://youtu.be/Ula0exwU24I
http://youtu.be/2vvp_k1zFh0
http://youtu.be/Uc8PvQ_cN-4
http://youtu.be/OaQgN5S4kss
http://youtu.be/3swCrgtN-rY