Morning watch 9-22-13
By Rochester Falcon Watcher MAK
It was breezy,mostly cloudy and cool for this mornings watch with a temperature of 51 degrees (F) 11 (C) and it's not expected to get much warmer for the remainder of the day. The sun was trying to come out at the end of my watch.
The big story for todays watch was the MVP Rochester Marathon which started at 7:30am and produced lots of car and foot traffic in our fair city, closing many roads around downtown. My one and only falcon sighting in the 3 hours I was out on watch was Beauty who I found on HSBC perched on her favorite southeast corner at 6:50am. She flew off around 7am when I wasn't looking.
I drove around looking for her but never found her again. I checked the Hawkeye and Brighton sites with no luck finding any falcons. I spotted a pigeon peeking out from one of the Kodak Office ledges perhaps looking out for falcons and a starling on a fire escape right around the corner on Brown St.
In my travels I took some pics  from State St. and the Broad St. Bridge of the runners as they arrived.
The start for the marathon was on the Andrews St. Bridge (ASB) which was packed with runners. With no place to see them very good I drove up to the top of the Sister Cities parking garage for a look.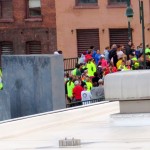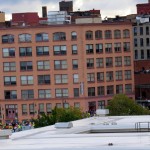 Make sure to click on the pics to see the full version
I came upon the ASB around 8:30am which had been re-opened and thought I saw a falcon on the Frontier Communications Tower platform but when I got over there it was gone. So I wandered around downtown and checked Hawkeye one more time before ending my watch at 9am. I did smile for 10 minutes at the very start as I spent it with the Beautyful one!

One link below to click on and see Beauty