Weekend Falcon Watch - Rainy Day Saturday to Cold and Cloudy on Sunday - 9/21 & 9/22/13
By Rochester Falcon Watcher Carol P.
As fall finally arrived today, the rain from yesterday cleared up and the cold front moved through Rochester, bringing temps in the 50's and overcast sky.  Bye Summer!  I'll miss you!
Saturday - September 21,2013
It rained all day on Saturday, but I still got out for a few hours to look for the falcons.  I found Pigott at BS and Beauty on Xerox downtown.  Dot.ca was a no show.  But, I was also happy to find a falcon at the Hawkeye plant. In the rain and the mist, it was impossible to ID the falcon eating on one of the upper roofs.  I only saw it for a moment.  About 15 minutes later, the falcon took off and flew north.  I did go looking for it, but was unable to find it.  So, I had Beauty, Pigott and a falcon at Hawkeye.
Sunday - September 22, 2013
Finally, the rain of yesterday came to an end.  But, the cold front had moved through and it was much colder than it had been, with temps in the mid 50's (F).
The Rochester Marathon took place this morning and many of the downtown streets were closed because of it.  I checked Hawkeye first.  No falcons seen there today.
I tried to go through downtown, but I couldn't get through, so I headed out to the BS location to look for Pigott.  I found her on the east side of the NE extension on a window 4 down from the roof.  For the next hour or so, I watched her preen, sleep and keep watch over her territory.  Her crop was very full, so I knew she had eaten recently.
*
*
*
*
*
*
*
*
I left Pigott at BS and was finally able to make it downtown.  The streets were open again.  I found Beauty on the south side of the Xerox Tower, 5th column in from the SE corner.  Dana joined me on the Watch.
*
*
*
*
We drove over to the Broad St Bridge and found Dot.ca on the south side of OCSR on the top IBeam.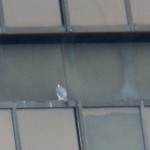 *
*
*
*
*
I ended my Watch after seeing all three adult Rochester Falcons.  Making it a very good weekend Watch.
I'll leave you with some pictures I took this weekend.  Enjoy!
Lots of sail boats out on Lake Ontario today.  and what I think were two young groundhogs out at BS.
*
*
*
*
This Cormorant was spreading his wings and puffing out his chest.  Trying to impress his lady who was nearby?
and a Killdeer that visited with me when I was looking for a falcon at Lake Ave KP.
*
*
*
*
I did a double take when I saw the sparrows under this picnic table escaping the heavy rain.  Very smart birds!
*
*
*
*
Yummy apple!