Sunday Falcon Watch - Juvie Found Again - 9/29/13
By Rochester Falcon Watcher Carol P.
At 10:50 am I received a tweet from fellow watcher Dana that there was a Juvie Peregrine Falcon flying above the Seneca Tower apartments, just north of the Hawkeye Plant where we were seeing the juvie hang out.  Dana reported that the juvie had landed on an air conditioning unit on the west side of the building.  Joyce and I joined Dana on the Watch.  Dana was able to confirm that the juvie was banded; one green over black and silver on the other leg, with no colored tape.  Again we were not able to read the numbers/letters on the band.  This juvie is staying high up on the buildings which is a good thing.
*
*
*
*
*
*
*
*
At 12:50 pm, the juvie took off heading west over the river.  The search was on.  Joyce checked under the Rte 104 bridge and Dana and I checked out Hawkeye, Lake Ave KP and then walked out onto the pedestrian bridge at Maplewood Park.  Kathy O joined the search, but we were not able to find the juvie.
Dana and I did find a falcon while we were on the pedestrian bridge, but it wasn't a Peregrine.  It was a Merlin on a dead tree on the east side of the river.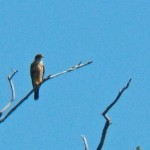 *
*
*
*
*
It will be interesting to see if this juvie stays for the winter.  We Rochester Falcon Watchers love to keep track of our falcons during the winter!
I'll leave you with a few pictures I took while we were on the pedestrian bridge at Maplewood Park.  The leaves are just starting to change.  In a few weeks this area will be gorgeous.  Enjoy!
*
*
*
*