Morning watch 10-1-13
By Rochester Falcon Watcher MAK
This morning was mostly cloudy to start but the sun burst thru as time went on making for a lovely morning with a starting temperature of 58 (F) 14 (C)
Todays watch was all about Beauty as I did not see any other falcons during my watch. I found her on the HSBC building at 7am where she was eating on the northeast corner.
She finished after 10 minutes or so wiped her beak on the ledge, which is called feaking, spread her wings and flew off to the west.
I drove to the Broad St. Bridge to have a look around and found the Beautyful one on the top ibeam south corner of OCSR. i went down to Graves St. by Aqueduct Park for a close view.
While I was there fellow watcher and good friend DebbieH stopped by before work to visit with Beauty and I. Beauty snuck off as Debbie and I were talking and not paying attention but we rode over to the Frontier Communications Tower (FCT) and found her on the northeast cube.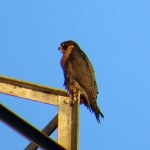 I dropped Deb off at work and left downtown to check the other sites but there was no sign of a falcon at either Brighton, Hawkeye or Seneca Towers. I re-joined Beauty around 9am as she was still on the northeast cube of FCT and after a couple minutes she hopped across and flew under the platform. I noticed her crop was bulging a bit more than it was earlier so she must have eaten while I was gone for that hour.
I left my spot in front of the Sister Cities parking garage on the south side of FCT to check from the City Hall parking lot which is on the north side. Beauty had her back facing out just to the inside of the northeast cube and that's where I left her to check around for Dot.Ca.
I didn't find DC so I ended my watch at 9:30am. I left downtown smiling for having spent my watch with my favorite Peregrine Falcon the Beautyful one!

Click on the links below to view some videos of Beauty
http://youtu.be/tS430UNcoZs
http://youtu.be/86U7W7GyMu8
http://youtu.be/y0iAkxXB0sI