Morning watch 10-19-13
By Rochester Falcon Watcher MAK
The starting temperature this morning as I stepped out the door was 53 (F) 12 (C) with mostly cloudy conditions but I did get the sunrise during a clear time
I found our Beautyful girl on the southeast corner of HSBC to begin my watch. It would be an all Beauty morning! She soon flew off there and went over to the northeast corner and started eating as I arrived in my spot on Chestnut St. near the Hotel Cadillac.
She spent maybe 10 minutes at the most nibbling on a meager piece of food and then at 7:42am Beauty flew off with her small package heading west.
I followed right behind, stopping on the Broad St. Bridge to look around. I spotted her up under the southeast wing on the Times Square building to the back of the ledge finishing up her food. When she was done Beauty flew out and back landing under the northeast wing.
Beauty had more cached food on the ledge and started eating-it was another small piece and she finished it off  lickety split in about 5 minutes. She then did some feaking (wiping her beak off) and started cleaning up her blood stained talons.
Satisfied with her clean up the Beautyful one flew off at 8:01am and headed north over to the Frontier Communications Tower. When I got over to the City Hall parking lot she was on her northeast cube. Beauty got situated then foofed out her feathers-I love it when they foof it up!
After 10 minutes I left to check the Brighton Site but I didn't find any PEFAs there. I returned downtown and searched everywhere for Dot.Ca but he was nowhere to be found. Beauty was still on her cube preening.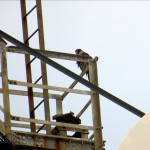 I left her at 9:06am thus ending my watch. I do like to see all our Rochester Peregrine Falcons so I know they're ok but a watch with only Beauty makes me smile everytime!

Check out the links below to see the Beautyful one in action