Saturday Late Morning/Afternoon Falcon Watch - Dot.ca Downtown with Beauty/Dot.ca at BS with Pigott - 10/19/13
By Rochester Falcon Watcher Carol P.
Lots of weather changes today.  Temps in the 50's (F), sunshine, dark clouds and gusty wind.  Thankfully the rain held off until this evening.
I finally was able to get out for my falcon watch this morning just before 10:00 am.  I decided to took for Billy the juvie Peregrine Falcon first.  First Russell Station, then the Charlotte/Summerville area, then Seneca Towers and finally the Hawkeye Plant.  Sorry to say, I was unable to find her.  I headed downtown and found two falcons on the Frontier Communication Tower.  It looked like Beauty on the NE box below the platform and Dot.ca above her on the NE corner of the platform.  They were both vocalizing softly to each other.  (11:05 am)
*
*
*
*
After awhile, I decided to head over to the BS location, arriving there at approximately 11:30 am.  I circled the building twice checking every nook and cranny.  I could not find any falcons there.  So, I parked on the south side and waited to see if they would return.  After seeing the banded tiercel, which I assume was Dot.ca, here last night, I wondered if Pigott or UT would return.
It was very quiet there and after an hour, I decided to drive around the building again.  When I got to the north side, I saw a falcon up on the NW corner of the NW extension.
*
*
*
*
*
I am pretty sure that this is Dot.ca.  I did see a black band on him later in the watch.  Just after Lisa McK joined me, Dot.ca started to ee-chup loudly.  We looked up to see what had caught his attention.  It was Pigott.  She flew up to the cubby ledge and looked around.  She took off and flew over Dot.ca, then turned back towards the cubby.  Dot.ca followed and they both went into the cubby where we could not see them.  But we sure could hear them!  Loud ee-chupping filled the air.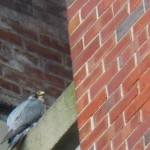 *
*
*
*
*
They spent about 15 minutes inside the cubby.  At 1:00 pm, Pigott came into view at the edge of the cubby while, DC continued to vocalize from within.  A few minutes later, he stepped out onto the ledge and flew out, landing on the roof above the cubby.  It was then that I saw the black band.  This was definitely not UT.  I never got a look at the numbers/letters on the band, but I had to assume that this was Dot.ca.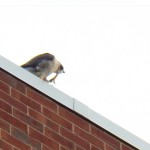 *
*
*
*
*
I thought that Dot.ca left, but later in my watch at 2:11 pm, I saw a small falcon face peer over the edge of the roof line at me and then disappear.  I drove out further from the building, but could not see him up there.
Pigott remained on the cubby ledge, preening and napping until I left her at 2;45 pm to check out the downtown area one more time.  She never did show me her bands and I never saw Dot.ca reappear on the roof.
*
*
*
*
Just before 3:00 pm, I arrived on the Broad St Bridge and found a falcon on the south side of OCSR on the top IBeam.  This falcon was very white.  It had to be Dot.ca.
*
*
*
*
I checked out the downtown area, but could not find Beauty.  It was time for me to end my watch.
I'll leave you with a few pictures I took yesterday and today during my watch.  Remember to click on any pics you would like to see larger.  Goodnight everyone!
When the falcons are away, the Crows will play!  lol
*
*
*
*
Some pictures taken at Russell Station last night.
*
*
*
*
Couple pics from the BS Location.