Sunday Late Morning/Afternoon Falcon Watch - Pigott Snatches a Pigeon & a Close Encounter with DC & an RTH - 10/20/13
By Rochester Falcon Watcher Carol P.
Another gorgeous fall day here in Rochester, NY with temps in the 50's (F), blue sky, fluffy clouds and sunshine most of the time I was out.  During my Watch I was joined by fellow Watchers Dana & Lou.
No sightings of Billy the juvenile Peregrine at Russell Station, Charlotte/Summerville, Seneca Towers or Hawkeye.  We'll keep looking for her!
I drove through downtown, but could not find any falcons there, so continued on to the BS location.  Pigott was on the east end tree ledge.  She was actively watching everything, her head swinging back and forth and up and down.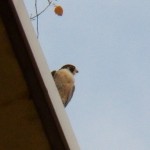 *
*
*
*
*
I parked my car on the east side parking lot and settled in to enjoy my watch with Pigott. (12:30 pm)
*
*
*
*
At approximately 1:15 pm, Pigott began to alarm kak.  She was looking up and so did I just as she launched herself from the ledge, wings beating strongly.  She quickly gained on the Red-tailed Hawk that was passing overhead.  I could hear her angry cries, but just before she reached the hawk, she broke off the attack and headed north, higher and higher and then………she stooped.  She stooped back towards me and I spotted what she was after.  A lone pigeon was flying towards the building and she dove towards it and extended her talons out in front of her and snatched it in mid-air.  She then carried it to the NE corner of the east extension.
*
*
*
*
She ate her fill and then started to look around and bob her head.  This is what they do when they are ready to take off.  Well, most of the time.  As the Watchers know, it may be the falcons intent to fly, but sometimes we wait a really long time to actually see them take off.  lol  Well, it wasn't too long before Pigott took off with the remainder of her meal.  She flew around the building, and I lost sight of her as she headed SW.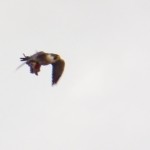 *
*
*
*
*
Dana and Lou joined me and we searched the area, finding a falcon on the SE corner of the building.  This falcon seemed smaller and was banded, so I assume it was Dot.ca.  He eventually flew off to the west and we all decided to head downtown.
I checked the Xerox area, and then joined Dana and Lou on the Broad St Bridge.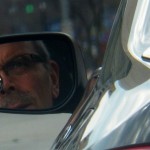 *
*
*
*
*
When I arrived, Dana was out of the car taking pics of the falcon on the top IBeam (south side) of OCSR.  This falcon took off and started chasing the pigeons and gulls over the river, first landing on the upthrust hand of the Mercury statue and then heading west.  The falcon landed on top of the Times Square building (TSB) on one of the wing rings.  This was definitely a spot that Dot.ca has been seen many times.
As I was getting out of my car, an adult Red-tail Hawk landed on a sign between Dana and I.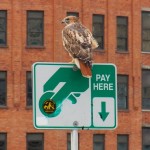 *
*
*
*
*
Dana was intently taking pictures of Dot.ca up on top of the TSB, so she had no clue the hawk was directly behind her.  I was trying to warn her and so was Lou.  That's when Dot.ca launched himself from the wing ring and went into a stoop, directly at Dana!  Of course Dot.ca was aiming for the hawk behind Dana, but she didn't know that at the time.  The hawk took off and the chase was on.  Dot.ca chased the RTH over the Broad St Bridge, heading south over the library.  Once they passed over the library, all we could see was quick passes by Dot.ca as he stooped over and over again on the hapless hawk.  Finally, he'd had enough and flew back towards us, landing on the top IBeam of the OCSR.
*
*
*
*
A gentleman on a bike that had been passing by at that time had stopped to watch with us.  Dana told us she had been taking pics of DC up on top of the TSB, when all of a sudden he took off and headed straight for her.  She watched him get bigger and bigger in her long lens, thinking he was stooping on her!  lol  That was until she turned around and saw the hawk right behind her.  Nothing like being stooped on by the fastest creature on the planet to get the adrenaline going!  Even if you weren't the intended target.
It was close to 3:00 pm and time for me to end my Watch.  I did continue to check the downtown area, but was unable to find Beauty.  It had been a wonderful day of Falcon Watching!
I'll leave you with a few pics I took during my Watch.  Remember to click on any you would like to see larger.  Goodnight everyone!
Fall foliage in the Genesee River Gorge from the Driving Park Bridge near Hawkeye.
*
*
*
*
*
*
*
*
Plus a couple from the Lower Falls Park.  Lots of water flowing over the falls and in the second pic, you can barely see the rainbow that crossed over the path in front of me.  I actually walked through a rainbow and it was very wet!  lol