Wednesday Late Afternoon Falcon Watch - Beauty and Dot.ca Seen/No Other Falcons - 10/23/13
By Rochester Falcon Watcher Carol P.
It was really cold, in the 40's (F), and by the end of my short watch, it was sleeting.  No snow yet, but I bet it won't be too long before we see the white stuff.  Brrrrr!
I was able to get in a short watch after work today.  Downtown, I found Beauty and Dot.ca on  the south side of OCSR on the top IBeam.  Dot.ca was on the left and Beauty on the right.
*
*
*
*
Beauty and Dot.ca were the only two falcons I saw today.  I saw no falcons at the BS location, Hawkeye, Seneca Towers, old Medley Center Mall, Charlotte/Summerville or Russell Station.
I was happy to see both Beauty and Dot.ca keeping each other company.
Last night, Lisa McK saw both Dot.ca and Pigott at BS.
So, that's it for my falcon watch report.  I'll leave you with a few pictures I took while I was down at the lake (Ontario), looking for the juvie Peregrine.  Be sure to click on any pictures you would like to see larger.  Goodnight everyone!
Buck Pond in Greece, NY.  Dark Clouds moving in.
*
*
*
*
Continuing Fall Foliage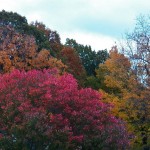 *
*
*
*
*
Red Sky at Night, Sailor's Delight!