Morning watch 10-30-13
By Rochester Falcon Watcher MAK
It was overcast and 37 degrees (F) 3 (C) when I started my watch today but the sun did eventually come out and make for a nice autumn day in Western New York
I can think of no better way to start a watch than with Beauty perched atop the Mercury money bag (MMB) and that's just what happened this morning.

She was looking left and right and all around for a meal ticket.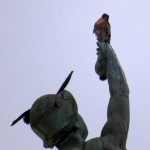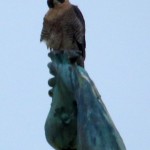 Remember to click on my pics to view the full version
The Ringling Brothers-Barnum and Bailey circus is in town at the Blue Cross Arena filling up the Court St. bridge with their cargo trucks and some on the Broad St. bridge (BSB)as well. The purple lights on the Rundell Library were still lit.
Pat stopped briefly on her way to work at Thomson Reuters just before 8am. About 10 minutes later Beauty vocalized and a couple minutes later stretched her wings and flew off across the river past the Hyatt Hotel and headed to Bausch&Lomb where she landed and picked up cached food.
The Beautyful one flew back across the river and ended up on the Times Square building (TSB) under the northwest wing where she began eating. I went down to the hole next to He's Chinese to watch.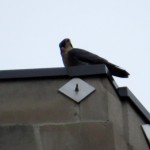 I decided to go look for Dot.Ca (DC) around 8:30am and as I was waiting for the light at State and Church streets I saw a falcon flying toward Times Square. I cut across to Fitzhugh St. and stopped near Widows Walk where I could see Beauty under the northwest wing and she was not alone. DC had joined her and no doubt wanted a piece of her cache. She left seconds after I arrived empty taloned-so she was nice enough to leave a chunk for her mate at the back of the ledge.
I left him to see where Beauty might have gone but I couldn't find her. When I returned to TSB there was no sign of DC. After a check around downtown with no sightings I switched gears and went to the Brighton Site (BS). On the way I took some more foliage photos as the trees are losing their colorful leaves fast now.
Arriving at BS at 9:15am, I spotted Pigott on the front edge of the cubby with her back to me. In the hour that I shared space with Miss Pigott she never turned around but she did have a busy head as she watched some crows that were in the area giving she and I a show with their antics.
I left her and returned to downtown-as I was on the Andrews St. bridge I spotted a falcon on the northeast cube of the Frontier Communications Tower. As I pulled up it flew off heading west around 10:30am. I checked around the Times Square area and then headed toward Kodak Office (KO) where I found both Beauty and DC on the launchpad. She was on the east side just a few feet away from DC who was on the northeast corner with his back to her as i was on State St. to the south of the tower by Platt St.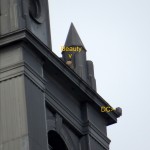 These 2 crack me up how they act like they're ignoring each other when close with their backs to each other. Beauty turned facing the east so I drove down to Mill St. for better viewing.
I then decided to drive to the north side of KO so I could see the front of DC and after a few minutes I called it a watch at 11am.
Anytime I can say I saw all 3 Rochester Peregrine Falcons safe and sound on my watch I just have to smile!

Click on the links below to see more pics and some videos
http://share.shutterfly.com/action/welcome?sid=0AaN3DFm0ZMWqi42