Morning watch 11-1-13
By Rochester Falcon Watcher MAK
Wow at 63 degrees (F) 17 (C) it was a balmy November morning here in Rochester,NY but the winds of change are a comin' as a cold front brought in on the heels of a very windy day will drop temperatures. I believe I heard talk of snowflakes on Sunday!
It was nearing 8am when I finally found Beauty on the OCSR building top ibeam northeast side from the Andrews St. Bridge. I couldn't ID her for certain until I went over to Bragdon St. next to the Radisson Hotel.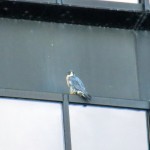 She kept looking north in the 10 minutes that I observed her but then at 8:02am she flew south. I went on the hunt to find her and 5 minutes later I got a report from cam watcher Donna that Beauty was at the nest box. I headed over there from the east side and got a tweet from cam watcher Annette that there was eechupping near the nest box. Thank you ladies! Unfortunately, traffic held me up and I didn't get to the Broad St. bridge (BSB) in time to see anything. I did however find Dot.Ca (DC) on the top ibeam southeast side of OCSR.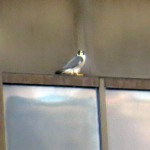 And for a bonus a rainbow formed to the north with some dark clouds above.
A few minutes later DC flew north. When I was out on the bridge I had a hard time keeping the camera steady from the strong winds and when I tried in the car I had the same problem as it was rocking me in that as well. I set out to look for our fine feathered friends but was unsuccessful so I drove to the Brighton Site (BS). 3 trips around the building and no Pigott sighting. I left to pick up fellow falcon watcher and close friend Jeannes'  puppy Isabella and then we went downtown around 8:30am. I found the Beautyful one had returned to the top ibeam northeast side of OCSR.
I was parked at the Radisson Hotel at Main St. and as the sun came out I couldn't help but see the white of DC on the southeast side of OCSR top ibeam.
The wind was blowing out of the west so DC was getting his feathers ruffled more than Beauty as they seemed pretty settled on their spots. The sun went away and then DC was in the shade as well.
I ended my watch at 10am wishing I had seen Miss Pigott what with the wind, but no worries for as I write this report Lisa has reported seeing Pigott at BS. So all 3 Rochester Peregrine Falcons have been seen today and that makes me smile!

Check out the links below to see videos of  Beauty and DC