Thursday Falcon Watch - 1/9/14 - All Seen During the Day Plus One at Kodak Park!
By Rochester Falcon Watcher Carol P.
Sunrise at 7:40 am.  Sunset at 4:56 pm.
It is currently 21 (F) degrees, but it feels like 14 (F).
When I left work today, I decided to head over to the south side of Kodak Park (KP) to check the stack catwalks.  During the day I had noticed that the neighborhood pigeons were antsy.  They were doing a lot of flying, like they were being spooked by something.  When I checked out the smokestacks, I could see what may have had them airborne so much today.  There was a Peregrine Falcon on the lower catwalk on the east stack.  Looked like a big bird, so I'm going to guess that it was a female.  Joyce and Brian joined me for a few moments.
*
*
*
*
Since I didn't have much time, I headed down to the lake (Ontario) to see if I could find Billy or any other falcons.  Nothing at Charlotte, so I continued on to Russell Station (RS).  I checked out both sides, but again could find no falcons.
Earlier in the day, Shaky had posted this picture taken from the Rfalconcam Camera, showing two falcons on the Kodak Office Tower.  Probably Beauty and Dot.ca.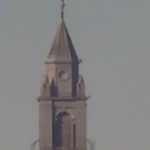 *
*
*
*
*
Joyce reported seeing Pigott at her nighttime roost late this afternoon at the BS location.  So, all of the Rochester Falcons had been seen today by the Watchers.  Plus, a 4th falcon that I saw at Kodak Park.
After looking for Billy, I parked in the small parking lot on the north side of RS and walked across the street to take a look at the icy lake.  It was a beautiful sight!  What looked like small icebergs were floating just off shore. They were surrounded by all kinds of water birds, ducks and geese.  A family of Mute Swans (I believe), floated by.  The whole scene took my breath away.  It was surreal.
I'll leave you with a few pictures from my trip to Lake Ontario this afternoon.  Enjoy and Goodnight!
*
*
*
*
Sunset over Russell Station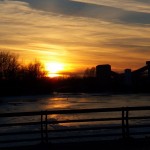 *
*
*
*
*
I so wanted to take a dip!  lol