Morning watch 1-22-14
By Rochester Falcon Watcher MAK
There was a big fat zero on the thermometer when I walked out the house this morning-as I approached downtown the light snow looked almost like fog enveloping the tops of the buildings. The sun had to work hard to break thru the clouds and snow but it made it out for a while
My first sighting of a PEFA was around 7:30am when I spotted one taking off from Midtown as I came around from behind HSBC. 15 minutes later I found Beauty on the south side arch of Kodak Office (KO). She was on the east side of it all foofed up to keep warm as the temperature had risen to 1 degree (F) -17 (C). The cold gave me problems getting my camera to focus so I had to trash most of them but you get the picture anyway!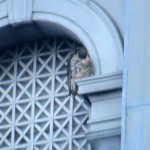 I left the Beautyful one to check on the Brighton site (BS) and on the way I took a pic of the sun trying to rise above the snow and clouds, plus a first for me-a snow rainbow also known as a Sun Dog.
I found Pigott on the south side vent at the west end of BS. She too was all foofed up to keep warm. She did some preening and flew off to the south after 10  minutes or so.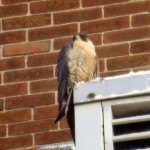 Little did I know that she was flying out to greet Dot.Ca (DC).  I drove around the building looking for Pigott and when I got to the south/back side of the building I spotted DC on an east facing top level window ledge on the southwest extension. He quickly flew off with a couple of his famous chirps and landed on the east end of the south side vent,his back facing out, as Pigott had returned to the west end.
5 minutes later DC flew south followed by Pigott a few seconds later-they disappeared beyond the tree line into a wall of snow. I left to return to downtown where Beauty was still on KO in the same spot I found her.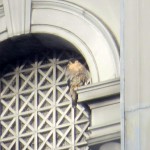 I was thrilled to have seen all 3 Rochester Peregrine Falcons on my first watch in a month as I returned from a stay in Arkansas yesterday, but there was a bonus 4th falcon sighting after I ended my morning watch at 9:20am. I was running some errands that brought me near the Kodak Park (KP) power plant about 90 minutes later, so I stopped to have a look/see. On the east side stack, lower catwalk I spotted a falcon whom I believe is probably the one that's been seen there since I went away in December. First from Mt. Read Blvd, then from parking lots on the KP premises.
The smoke from the stacks kept blocking my view so I had to take my shots in between. Judging by size I would say this is a male but from that distance looks can be deceiving.
Not bad at all for a welcome home watch that made me smile from start to finish!

Click on the 5 links below to view todays videos-sorry they are not in focus for the most part, because of the very cold conditions