Morning watch 1-23-14
By Rochester Falcon Watcher MAK
It was a little warmer this morning from yesterday as I began my watch at 6 degrees (F) -14 (C) with overcast conditions and a fine light snow falling. The sun broke thru around 9am and the temperature rose to 11 degrees when I ended my watch at 10:30am
I arrived downtown about 7:10am-it was still a bit dark out and initially I wasn't finding any falcons. Eventually as I made my way down Broad St. from checking the east side I spotted a falcon on Mercurys money bag (MMB). About 2 seconds later cam watcher Donna reported Beauty on the MMB-thanks for the assist! So I drove down to the hole (Aqueduct St.) for a closer look. Ah, it was good to see her up there looking around for breakfast.
Less than 10 minutes later the Beautyful one flew north and so I checked Kodak Office (KO) to find that she had gone there as has been a pattern of hers recently.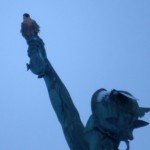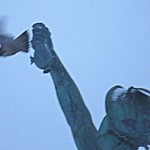 Make sure to click on my pics to see the full version
Unfortunately because of the long distance,dark overcast conditions and cold temperature my camera was not focusing very well as Beauty was perched on the west side of the south side arch of KO.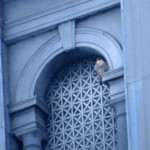 I hung out with Beauty for a while and left her all settled in to check on the Brighton Site (BS).  When I arrived at BS nobody was home, but after making a stop, I returned to BS to find both Pigott and Dot.Ca (DC) present. They had there backs to me and were on kiddie corner top window ledges-Pigott was on the east extension and DC on the southeast extension.
DC kept falling to sleep on and off and Pigott did not show her face much but I managed to get a couple shots of her.
I spent about half hour with them and left to re-check downtown for Beauty. I stopped on the Broad St. Bridge to have a look before continuing on to see that she was still on the south side arch of KO but she was now on the west side.
I left her to it at 10:30am thus ending my watch after having seen all 3 resident Rochester Peregrine Falcons which always puts a smile on this watchers face!

Click on the links below to see todays videos