Morning watch 5-30-11
By Rochester falcon watcher MAK
Happy Memorial Day!
Just in case I checked the cams this morning before leaving and what do I see but the Beautyful one in the nestbox looking around,scooching down in the scrape and picking at pebbles. I watched her for 5-6 minutes on the live stream until she left and so did I. I didn't go down the Broad St. bridge first as I usually do but checked Kodak Office and the Frontier Communications Tower without a sighting. I proceeded to the east side checking Xerox and HSBC with no luck. As I came back through on my way to Times Square I noticed the white car of Dans on the Broad St. bridge. It made me happy to see him again. He hadn't come down with me in the morning for almost 2 weeks since that day we had talked about the eggs at both sites possibly not being viable. I pulled up and he put on that big smile of his for me. He told me a falcon had flown out of the nestbox at 5:35am and I told him that it was Beauty and caught him up on all the latest news. We decided to go to the pedestrian bridge at High Falls thinking that Beauty might go to Kodak Office where she's been hanging out lately. We can see pretty much everything from there at a distance.Finally around 6:55am I spotted Beauty on the FCT platform rail southeast corner. She was facing us and looking in the general direction of Kodak Park.
Beauty flew to the Times Square building after about 10 minutes and landed under the northeast wing. Again facing the north and looking in the direction of KP.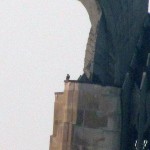 Apparently since the eggs in the nestbox are no longer Archer is compelled to stay at KP with Unity and those eggs that we are sure are no good. Such is the life of an instinct driven falcon. Dan had to go so I left High Falls, lovely place that it is, and drove to Aqueduct St. to be up close and personal with the Beautyful one.
We sat and visited for half hour and then she flew off. I tweeted it out so Dana, who was at Kodak Park at the time could be on the lookout in case Beauty had decided to go over there. I'm so worried about her and Unity duking it out again. I drove around the city without locating her and then went home thus ending my watch. As promised I put together an album from yesterdays watch at KP. Here's the link and enjoy!

http://www.kodakgallery.com/gallery/sharing/shareRedirectSwitchBoard.jsp?token=466292342213%3A166912795&sourceId=533754321803&cm_mmc=eMail-_-Share-_-Photos-_-Sharee
And this mornings album:
http://www.kodakgallery.com/gallery/sharing/shareRedirectSwitchBoard.jsp?token=873003342213%3A1131442977&sourceId=533754321803&cm_mmc=eMail-_-Share-_-Photos-_-Sharee