Morning watch 6-13-11
By Rochester falcon watcher MAK
Hello to all of our Rochester falcon fans! After 3 days away I thought I should write a little something even though my watch was very uneventful this morning. As usual before leaving the house I checked the cams to find Beauty perching in the nestbox. I went straight to the Broad St. bridge and parked. Looking up at the Times Square building I could see that Beauty was still perched up there in the nestbox.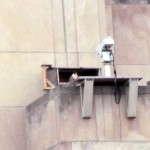 15 minutes later she took off and so did I. Going in the direction she headed I found her over on the second arm of the Frontier Communnications Tower.
I hung out with the Beautyful one there for almost an hour. In that time she tried  bringing up a pellet several times and she pooped so it's safe to say everything was working properly. lol  Sometime just before 7:ooam she quickly flew off to the west and left my field of view. First pic below shows her hunched over trying to cough up that pellet I mentioned. In the 2nd pic she is semi-hidden in flight after she took off.
I waited a few minutes to see if she would return with no such luck. I made my way around the city looking in all the usual spots without success so I decided to go over to Kodak Park. After searching there and finding no falcons I returned to downtown Rochester. Sadly the only thing I saw on Times Square was a man near the south ledge opposite the nestbox. This is where Jemison had first fledged last summer. The man was only there briefly and I didn't get a pic and I have no idea what he was doing. I thought that it wasn't too smart to  not be wearing a hard hat. I made 2 more trips around the city and called it quits to go home for breakfast and meds. I'm sure all 3 of our resident falcons were fine, probably eating somewhere or just hunkered down somewhere digesting their morning meals. It was really good to see Beauty after my trip to Canada over the weekend. I hope everyone has a great day!