Morning watch 6-14-11
By Rochester falcon watcher MAK
Happy Flag Day to all of us in the USA!  I'm afraid I don't have much to report today as Beauty has been eluding me very much of late. 10 minutes into my watch I found the Beautyful one on the west side of the Frontier Communications Tower below the platform.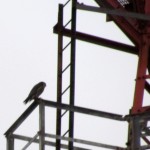 Please forgive the dark pictures as it was a very dark,gloomy morning in western New York. She gave me the same routine today as yesterday spending maybe 20 minutes with me. She worked on bringing up a pellet and then she scampered over to the other end of her perching spot spreading her wings to catch her balance before flying off to the west and out of sight.
For the next 2 hours I drove around searching for our elusive Peregrine Falcon with no further sightings. One of these days I'm going to find her hiding place! lol  While I was parked on the Broad St. bridge DebbieH came by for a chat saying how she misses seeing Beauty and Archer flying around the area. Me too! That's all folks!