Morning watch 6-15-11
By Rochester falcon watcher MAK
Good day everyone! Beauty was perched at the nestbox when I left for downtown this morning but she left while I was in commute (the little stinker) so I had to look for her when I arrived. Parked on the Andrews St. bridge I spotted her on the roof of the Radisson Hotel as she took off VERY fast! This is NOT a usual building for her to go but then, she is not exactly acting like herself these days(in my opinion). I  followed her with my binocs until she disappeared behind the Thomson Reuters building upriver heading in the direction of the Cornhill area. I thought for sure she had gone to the jail tower which is located over that way but to my dismay she wasn't there when I got over there.  She sure does like to play hide and seek with me lately!  I took some pics of the Genesee River between the Broad and Court St. bridges. It has receded quite a bit in the last few days and the rocks are now visible for the shorebirds to hang out on again.
After searching around the city for an hour and a half going places I have never been before, I finally located the Beautyful one on the jail tower. She was on the 3rd arm down southeast side.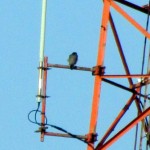 I drove over to Troup St. to be closer to Beauty. We spent 20 minutes together before she took off headed toward downtown.
I drove back to the Times Square area with no sign of her and subsequently I was not able to find her again before I ended my watch. As always I am happy to have seen her at all on this bright, sunny morning in Rochester,NY! See ya!

For pics from last nights watch at Kodak Park and more of this mornings watch click on the link below:
http://www.kodakgallery.com/gallery/sharing/shareRedirectSwitchBoard.jsp?token=238305452213%3A1025344187&sourceId=533754321803&cm_mmc=eMail-_-Share-_-Photos-_-Sharer