Morning watch 1-29-15
By Rochester Falcon Watcher MAK
Today started with a fiery sunrise which faded quickly behind clouds as the morning turned overcast with a temperature of 11 (F) -12 (C)
Click on my pics to see the full version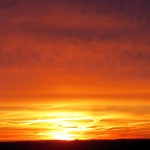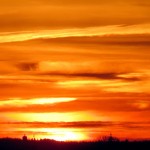 Taken from the 16th floor east side balcony of Seneca Towers
After starting the day with that spectacular sunrise I got to see both Billie and 99 on the northwest corner -she was on the roof and he was above her on the railing.

The sun left us after a couple minutes and it was back to gloomy skies. Buffalo Billie and 99 were looking to grab some breakfast on the fly as they took off to the south with 99 leading the way as Billie watched then joined him. They didn't return in the few minutes that I waited for them.
I moved on to downtown and from the Broad St. Bridge (BSB) I spotted a falcon, whom I believe was Beauty, on one of the northwest corners of Bausch & Lomb (B&L) eating with her back to me. I took a chance by deciding to go up on the South Ave. garage roof for closer viewing but as luck would have it when I got up there she was gone. After a look around on the east side of the river I went to check the elevator shaft of OCSR from Bragdon Place. Lo and behold Dot.ca (DC) was up on the south side ledge in the same spot and positioned the same way as when I left him yesterday. He's so predictable!
I left the boy to nap in his man cave with food in his crop as I went out in search of the Beautyful one. I didn't have to go far-as I was pulled over on the Andrews St. bridge I spotted Beauty on the top ibeam northwest side of OCSR. Of course her back was to me as I pulled over on State St. across from the Rochester Plaza Hotel to share space with her.
Beauty looked like she had food in her crop too so I imagine they both ate up on B&L before I got downtown this morning. Beauty was also napping at times with her head tucked in behind her shoulder then she would preen a little and so forth.  I decided to leave them to it at 9:10am and end my watch-Beauty left me with this parting shot.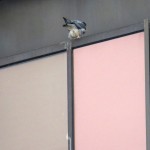 Now after that and seeing all 4 Rochester Peregrine Falcons how could I leave without smiling!

Click on the links below to see today's videos
http://youtu.be/hrdeLWKy20o