Morning watch 1-30-15
By Rochester Falcon Watcher MAK
We got 3-4 inches of snow overnight and it's still snowing lightly as I write this report. The temperature when I left for my morning watch was 29 (F) -2 (C) it dropped 6 degrees while I was out and there was a strong wind out of the north.
It wasn't much of a watch today as Beauty and Dot.ca (DC) were hunkered down in the OCSR elevator shaft for the most part. When I first arrived parking by the Radisson Hotel near Main St. I saw one falcon and wasn't sure if I was seeing a 2nd falcon tucked back in on the north ledge because it was snowing too hard to see clearly. Finally I got a good look and could identify DC on the end of the ledge and Beauty tucked in on the same ledge.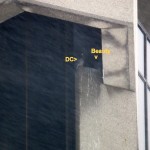 My camera was having lots of trouble focusing on anything but the snow so there is no snippet movie today and very few pics. I was able to see through my binoculars that the Beautyful one was eating as DC watched. He made 2 attempts to grab it from her then he flew out and over to the top ibeam southeast side of OCSR.
The snow had lightened up and with his bright whiteness there was no missing DC up there.
Beauty came out from the depths of the ledge after she was done eating and with her back to me started cleaning herself up. Somehow without me seeing him, DC managed to fly back into the elevator shaft going to the south side across from his mate. I didn't know where he was until I drove down to Bragdon Place where I could see that side of the elevator shaft. Always the sneaky one!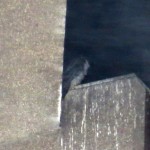 <DC
I ended my watch at this point as I didn't think there would be much going on with these two. It was a sweet little watch with our dynamic duo that sent me off with a smile at 9am!

Click on the link below to see the one and only video for today