Morning watch 1-31-15
By Rochester Falcon Watcher MAK
Another coolish morning with a starting temperature of 9 (F) -13 (C) overcast skies and light snow falling after I arrived downtown
After finding no falcons in the OCSR elevator shaft I was greeted at the intersection of Broad St. and Exchange Blvd. by police cars and officers placing cones all around the area for an event at the Blue Cross Arena. With no falcons seen from there I then went to the east side and came up empty there as well. I made my way over to the Andrews St. bridge where I spotted Beauty on the south side arch of the Kodak Office tower (KO), so I drove down State St. stopping below KO.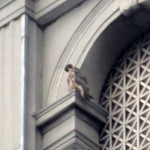 Beauty was watching something below very intently-I thought perhaps a pigeon was trying to hide from her by the Kodak letters on the buildings roof.
She was bobbing her head like crazy trying to focus in on whatever it was and I thought she would take off after it but she settled down to do a little preening. At 8:30am the Beautyful one must have seen Dot.ca (DC) go into the elevator shaft for she flew off heading toward OCSR to the south.
I followed behind, going to Bragdon Place first to check the south side elevator ledge. I believe it was DC because of the white I was seeing but it could have been Beauty too. I then went to the Radisson Hotel near Main St. to check the north side ledge and way in with their back to me was the other half of our downtown pair.
There was no way to tell who was on that ledge but the important thing is I saw both of our downtown Rochester Peregrine Falcons on watch this morning. I ended my watch at 9am as it was obvious they were down for the count. Keep smiling!

FYI-I recently wrote a letter to the owner/s of Seneca Towers asking if they would consider allowing the placement of a nest box on the roof for Billie and 99. I received a response from them stating they cannot entertain my request but they would alert their staff to not disturb the falcons if they nest on the roof.
Click on the links below to see today's videos