Morning watch 11-11-11
By Rochester falcon watcher MAK
Let me start by thanking all our veterans for without their sacrifices I might not be able to enjoy the pleasures of falcon watching. I salute each and every one of you!!!
So I was laying in bed doing my knee exercises this morning at about 6:40am when I got a text from Joyce saying that she was heading out the door to take me on a falcon watch before work. Nothing makes me move faster than the chance to see falcons! So I finished up my exercises and threw on some clothes(my shower could wait 'til later) plopped my tye-dye cap on my head and waited for her arrival. I told her she must really love me cuz even work doesn't get her up this early in the morning! lol Anyway, we headed downtown on route 490 and it was a breeze with very few commuters as it's Veterans day. We searched all the favorite spots with no luck and decided to just sit on the Broad St. bridge and wait for Beauty to come to us. I got out and checked the river on both sides looking for something to take pics of but all was quiet. Up on Mercury was a bunch of starlings just hanging out.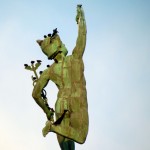 All of a sudden they were off and what looked to me (cuz I'm a little rusty) like a crow chasing them at first turned out to be the Beautyful one! As she flew up to the Times Square building with that gorgeous wing span of hers there was no doubt that I was seeing my feathered friend that I had been missing for nearly a month. Joyce drove down to the alley by the Wilder building and parked as tears of joy and gratitude streamed down my face I thanked her for getting me back to where I belong. At first the sun was shining on Beauty and then it clouded up and started to snow.
Next thing we know Beauty was plucking feathers out of something. We didn't see anything in her talons when she flew up there so we assumed it was cached prey. I took a short video of her eating as the snow fell down on our heads through Joyces' sunroof. The link will be at the end of this report. It is a bit shaky since I was holding my camera up in the sunroof but I hope you will enjoy it none the less.
We sat there in the cold and wind and snow content with the fact that we were watching one of the most extraordinary animals on the planet! I count my blessings every time I see a falcon for it isn't something that everyone has the chance to do.As the clouds rolled in making it darker and darker the pics became less and less clear but she still looks BEAUTYFUL!
As time was ticking away and Joyce had to be thinking about getting to work we said goodbye to Beauty and went to KP to look for Unity. This gorgeous gal was nowhere in sight. As a matter of fact there were no birds of any kind around. Since there's no great need to defend territories right now we figure Unity is wandering as Peregrines are famous for. Joyce dropped me off home and another watch was in the books.
I've thanked Joyce many times for her contribution to my happiness and well being but I need to thank some other folks that have been here for me too throughout my recuperation. Special thanks to CarolP, KathyO and Jeanne Jeanne the dancin' machine!  They have texted me with encouraging words, they have visited me when I was in the hospital and rehab and they have come to my home with cards, balloons, flowers,goodies and food! I have not gone hungry that's for sure! I soooo love my falcon family both far and near. You all keep me SMILING!