Falcon Watch 8-4-17
By Rochester Falcon Watcher MAK
It was 68 (F) 20 (C) degrees and sunny when I first drove through downtown. A couple t-storms passed through followed by more sunny skies when I returned to downtown
I stopped on the Andrews St. bridge real quick and saw a falcon on the crossbeam that joins the northeast and southeast cubes on the Frontier Communications tower (FCT). I drove over to Fitzhugh St. to identify it as Dot.ca (DC).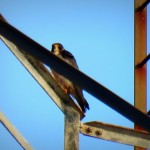 Dark clouds with lightning were coming my way from the west so I left to get over to fellow falcon watcher and good friend, Jeannes' place to walk Bella before it started storming. We got our walk in just before the skies opened up and began to pour of rain. I returned to downtown with gray skies finding Beauty on her northeast cube of FCT. There was nowhere to park close to her but I did manage to get a couple quick pics with bad lighting.
You could see that the Beautyful one had been in the rain as her head feathers were wet. I checked the rest of the tower for DC but couldn't find him. I thought perhaps he was over in the OCSR elevator shaft as he goes there when there's inclement weather. I drove over to the Radisson Hotel and checked the north ledge first, he was not there so I went to Bragdon Place where I spotted his whiteness on the south side ledge.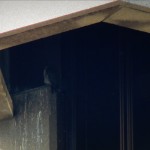 I wanted to get to Seneca Towers before it got too late to see if anyone was home there and I was in luck as I found Seth on the north end window ledge from the Northridge Church parking lot. He was watching something intently down behind him as he kept looking over his shoulder. He stood up and I thought he would take off but then he settled back down into his over the shoulder stance.
A minute later Seth pooped, which is usually a tell tale sign that a falcon is going to fly off but nope, he just stretched and went back to watching over his shoulder.
A few minutes later Seth stooped straight down into the gorge at break neck speed and returned to his spot with nothing to show for his efforts.
I wished him good luck with his hunt and ended my watch at 9:40am with a smile after seeing 3 of Rochester's resident Peregrine Falcons!

Click on the link below to see today's snippet video