Utica Falcon Watch/Montezuma bonus 8-5-17
By Rochester Falcon Watcher MAK
There clouds and sun with temps in the 70's
Click on the pics to see the full version
Yesterday Joyce and I planned to go to Syracuse to look for Pigott and her mate, George. As we passed our exit for Syracuse Joyce decided we would go to Utica after I said I'd never been there and loved the resident Peregrine Falcons at that site, Ares and Astrid. We were treated to the presence of one juvie to start our watch on a good note. Soon after arriving, around noon, Joyce spotted it flying near the nest building, Adirondack Bank (AB) and the Utica State Office building (USOB). We drove around looking for it and 45 minutes later we found the juvie on the west side of USOB.
This juvie had a full crop and he soon pooped and flew off over the Utica Hotel and back to the north side of the USOB. He was whining so we knew there had to be an adult somewhere near there. I then spotted one on the west side of the Adirondack Bank. This adult also had a full crop.
Soon after that I spotted the other adult below the other one with its back to us. Joyce got out the car to walk down for a closer view and I joined her soon after. We had found Astrid and Ares!
As I was walking down the sidewalk to see the front of the lower adult I noticed some women in a second floor window all dressed in the same dresses so I signaled to them to wave-they were more than happy to pose for me! And I also liked a mural on one of the buildings.
All 3 PEFA's were napping with full crops to digest so we decided it was time to head to Syracuse to try our luck there.
We found the empty apartment building called the Harrison House where Pigott and George have been seen hanging out this year. The State building where they nested the last couple years has been under renovations and the nest box was moved so they didn't use it and as a result no brood for them this year. We spent about 3 hours checking the city and sitting at the Harrison House waiting to see a falcon. There was no shortage of pigeons on this building! Suddenly in a very quick flash Joyce saw a small falcon appear out of nowhere and hit a pigeon. I only saw the falcon for a split second before it flew behind the building never to return. We believe it must have been George due to the size. Sorry, no pics at this site.
We left there around 6pm and stopped by the Montezuma Wildlife Refuge on our way home to try and find some eagles. What we found instead were 10 Osprey-adults and juvies in nests, trees and flying. What a treat for me as I haven't seen a whole lot of Osprey in my bird watching history. The first bunch were along the stretch of highway where there are several nests on power line poles.
Next, we checked Mudlock where we've seen eagles before but again there were juvie and adult Osprey with fish. The sun was setting behind them which made for terrible back lighting to take pictures but I managed to give a few some help and make them good enough to keep.
On our way to Armitage to look for eagles we came across 3 Sandhill Cranes hanging out in a field with a bunch of Canada Geese.
We never did see any eagles but as the sun went down and the moon appeared we left for home smiling after a very nice day spent with nature!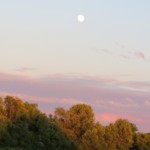 If you'd like to see more pics from the day click on the shutterfly link below and as always there's also a link for a snippet video
share.shutterfly.com/action/welcome?sid=0AaN3DFm0ZMWqkic