Falcon Watch/Short but Sweet 8-18-17
By Rochester Falcon Watcher MAK
A warm. muggy morning with a temperature of  73 (F) 23 (C)
I only had a short time to check on our falcons this morning and they cooperated as I spotted Beauty on the Frontier Communications tower from the Andrews St. bridge. I quickly drove over to the City Hall parking lot for closer viewing. She was on her northeast cube looking beautyful as ever!
I started searching the structure for Dot.ca (DC) and after a few minutes I spotted him near the red light below the southeast cube but I didn't have a good angle on him so I drove down Fitzhugh St. and parked in front of the Sister Cities parking garage. He was gone when I got there but after a few minutes I saw movement inside the structure behind where he had been. They sure are hard to find when they go to the interior of the tower.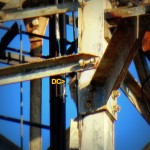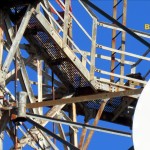 <Click to see the full picture
That's all she wrote- I left after sharing space for about half an hour with our downtown Rochester Peregrine Falcons. Any time spent with them is enough to make this watcher smile!

Click on the link below to share your own time with Beauty and DC