Sunday Morning Falcon Watch - Pre-Eclipse Watch - 8/20/17
By Rochester Falcon Watcher Carol P.
What a gorgeous pre-eclipse day here in Rochester, NY.  Tomorrow we will have a partial solar eclipse (70%).  Here's our schedule:  The moon will begin to cover the sun at 1:14 pm.  Our greatest eclipse will be a partial coverage of the sun at 70% at 2:36 pm.  The eclipse will end here in Rochester at 3:52 pm.  In seven years (2024), we will have a total solar eclipse!  One of the questions is, how will the animals behave during the eclipse?  It will be very interesting to read the different observations.
I started my watch a little before 9:00 am.  It was sunny, with a temperature in the 60's (F).  Since the young ones have left, I usually find Beauty and Dot.ca on the Frontier Communication Tower (FCT).  Today was no exception, both were there.  Dot.ca was on the top arm and Beauty was on the framework below the platform.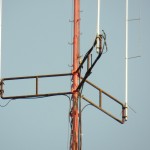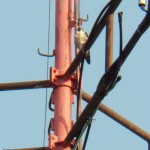 <— Dot.ca on Frontier Communication Tower.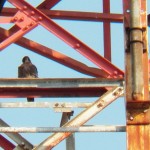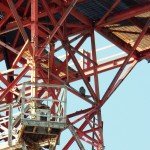 <— Beauty on the Frontier Communication Tower.
They seemed settled in, so I drove around downtown, hoping to find another falcon.  No such luck.  By the time I returned to the FCT, Dot.ca was gone.  Beauty was still in the same spot I left her.
I stayed for a little while, but there was no further activity.  All was quiet and peaceful downtown.
It was time to continue my watch.  My next stop was Maplewood Park, where I had a nice, far away view of the west and north sides of the apartment building.  There was one adult up on the north end window ledge.  I was way too far away to get an ID.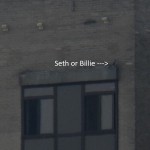 <— Billie or Seth?
At Medley Center (aka "the old Irondequoit Mall"), I found no falcons and no evidence that they had been there.  Brian H had reported seeing one there on the glass pyramid a couple weeks ago.
I next decided to head down to Irondequoit Bay to see if I could see any Eagles.  I didn't seen any Eagles, but there were some other birds of interest.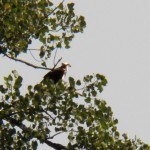 <— Osprey in a tree on the west side.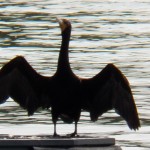 <— Cormorant drying its wings.
I stopped again at Maplewood Park for another look and found that Billie or Seth had moved to the other end of the north side window ledge.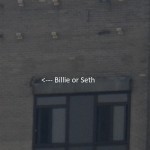 <— Billie or Seth at Seneca Towers.
I was very happy to have seen 3 of our 4 Rochester Falcons during my watch.  I sure would love to get a glimpse of one of our young ones again. 

On my way home, I spotted this molting Mockingbird.  It was hunting grasshoppers in the grass below this sign.  Love Mockingbirds!
Enjoy the eclipse tomorrow everyone!  Would love to hear about your observations of the behavior of the animals around you.