Sunday Morning Falcon Watch - Another Very Warm Day! 7/15/18
By Rochester Falcon Watcher Carol P.
*Please be sure to click on the pictures to see the full image!*
It was another very warm day here in Rochester, NY.  I got downtown just after 7:00 am and it was already close to 70 degrees. Temps were expected to go up into the high 80's.  Again, no rain in sight.
Just before I arrived, Larry O and Dan reported seeing Beauty bring in food over the river.  A juvie flew up to her and there was a food transfer.  They saw the juvie go to the southside of the Times Square Bldg (TSB) and Beauty to the Powers Bldg.
I checked the southside of the TSB, but could see no falcons there.  From Aqueduct St (aka "the hole") I spotted a falcon eating on the NE lower corner of the Widows Walk (WW).
I moved a little closer, to the parking lot on the northside of the TSB.  From there I could only get a quick look at a head and wings now and then.  At one point, a pigeon flew in and landed next to the juvie.  Falcon wings came up to greet it and the pigeon flew off very quickly.  Wish I had gotten that picture! :)
After finishing breakfast, the juvie walked down the ledge, heading south.  I finally got a nice view of a red taped silver USFW band.  It was Letchworth!
Letchworth took off heading north and I followed.  I do love playing tag with the falcons.

I found her in a lower section on the north side of the Frontier Communication Tower.
Further up inside the framework, below the platform, there was a sleeping adult falcon.  Pretty sure it was Dot.ca.
Letchworth took off again, this time heading north.  I followed, but could not find her.  After checking out the whole downtown area, I returned to the Frontier Communication Tower (FCT).  Dot.ca was still there, and I could hear a juvie Peregrine Falcon wailing.  It took me awhile, but I finally found the juvie on the shorter FCT.
This juvie had a silver band, so it was either Sundara or Mike.  After checking my pics, I'm pretty sure it was Mike.
Mike moved around, wailing loudly.  Dot.ca was still dozing above.  After awhile Mike spread his wings and took off, heading east.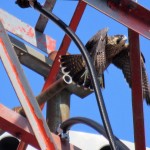 It was time to search again.  When I was driving towards the Times Square Bldg, I saw a falcon fly very fast towards OCSR.  It landed on the southside top Ibeam, near the west corner.  From the hole, I could see that it was Dot.ca.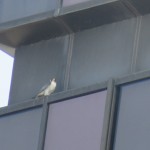 It was 10:00 am when I ended my morning watch.  It had been awhile since I saw Mike and I was happy to see him doing well.
Enjoy the day, and keep cool everyone!