Morning watch 8-29-12
By Rochester Falcon Watcher MAK
As I started walking up the Broad St. Bridge(BSB) and got Dan in my sights I noticed the familiar flap of a Peregrine Falcon flying overhead from the east. I yelled to Dan and he grabbed his binocs as did I to watch the Beautyful one fly to the Times Square building(TSB). She came to rest on the southeast column that is one level above where Callidora and Orion took their first flights.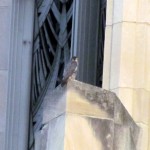 Larry drove up right after and found a falcon on the Frontier Communications Tower(FCT). It was most likely Orion on FCT. Larry O'Heron sure likes finding  herons of any kind  down in the river and every day he looks for them. It may have something to do with his last name! lol This year we have Great Blues,Black-Crowned Night herons and little Green Herons. They are great entertainment during the quiet times of our morning watches together as they hunt and fly in the river below.This pic is for you Larry!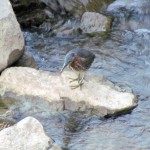 Around 7:00am Beauty flew to the base of Mercury, touched down briefly and flew off to the east where we lost her behind Xerox. Dan and Larry had to leave so I decided to walk east to HSBC to see if Beauty was there. She has always liked hunting off HSBC first thing in the morning and Archer used to join her too. Miss that little guy with his white feather! <3  I ran into DebbieH as she was walking to work from the South Ave. garage where she parks. As soon as HSBC came into view I could see Beauty up on the southwest corner. A Beautyful sight for sure with the sun coming up behind her.
She didn't stay too much longer before she flew off headed west. In turn I headed back to the BSB to find where she went. I didn't see any when I got there so I went up to the top of the South Ave. garage. I could see pretty much every tower and building that the falcons perch on from up there. 10 minutes after I perched myself on the 8th floor of the ramp garage Beauty came in and perched herself on the heel of Mercury.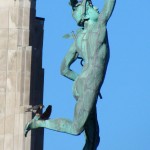 She then went over to the calf,then back to the heel,back to the calf and finally back to the heel where she stayed put until she left Mercury.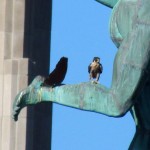 Around 9:30am the Beautyful one took off flying west out of view. A few minutes later I got a text from Donna saying Patsy(Pat who works in Thomson Reuters) could see a falcon on OCSR so I departed the garage to go have a look see. I couldn't see the west corner from up there so I would need to go down to the BSB. I saw the falcon on the 2nd ibeam west corner and so I went down to the hole for a closer look to ID tho I was pretty sure it was Beauty cuz that's one of her perching spots. As I started down to Aqueduct St. I spotted something on the southwest column of the TSB. It looked like a pigeon wing sticking up with a possible falcon behind it. I saw a few feathers floating above it as well. I thought perhaps Orion was eating up there but never did get a positive clear pic to prove it no matter where I walked to for different angles.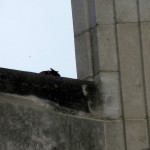 An hour passed when Beauty disappeared from her spot on OCSR. I didn't know if she flew off or just went around the corner to the  shaded north side. I ended my watch at this point and walked to my bus stop smiling on the way for having spent the morning with my favorite falcon Beauty!

Links for my photo album and videos are below-you know what to do
http://share.shutterfly.com/action/welcome?sid=0AaN3DFm0ZMWrG9g