A Sunday Falcon Watch - 12/9/12 - Falcons Seen Today: Beauty, Pigott & BST
By Rochester Falcon Watcher Carol P.
A mostly cloudy & cold day with just a hint of sunshine.  Today I was happy to see all three Rochester Falcons, although it took me a while to see all three.
Some Tweets from Today:
7:25 am - Annette on RFalconcam Now - "Beauty on Money hand." - As seen from Camera #1
7:42 am - Annette on RFalconcam Now - "She flew away." - As seen from Camera #1
10:30 am - Carol P - "Here at BS and no falcons in sight. Not even in the trees."
11:50 am - Larry O - "Brighton Falcon watch. Have 1 Falcon on South East extension inside of structure."
12:00 pm - Larry O - "Brighton  Falcon watch. Completed 1 circle. Only see 1 Falcon."
12:4o pm - Carol P - "Back at BS. Finally a falcon where Larry said on NW extension. I could not find B anywhere DT."
12:50 pm - Carol P - "2 falcons at BS Now."
1:20 pm - Carol P - "BS. Both are on the west end of the bldg now. Pigott is on the south corner and BST is on the north corner."
2:20 pm - Carol P - "DT. I left P&BST at BS to check for B before I head home. Again no luck finding her."
2:21 pm - Carol P - "DT. Well isnt it always the way? Beauty came out to say goodbye as I took one more look. She is on the SW corner of the Hyatt. All 3 seen!"
**************************************************************
Today I went to the BS location first, arriving at 10:30 am.  I circled the building quite a few times and had no luck finding any falcons.  My only companion there was this little cutie.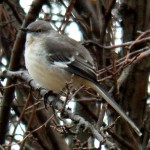 It was time to check out downtown to see if I could find Beauty.  I circled the downtown area looking into every nook and cranny.  Beauty was no where to be found.  I decided to head over to the High Falls area for a visit to the pedestrian bridge we used to watch Mariah, Kaver and their young from.  I was the only one on the bridge, so I walked around and took some pictures and a video and just hung out for awhile.  From there I had a great view of the downtown area, but I still could not see Beauty anywhere.  Here are some pics I took while there.
Here's a picture of what my friend Dale named the Falcon Sucking Tree many years ago which is located on the gorge wall.  During the summer months, it is covered with leaves and I believe that every one of Mariah's 43 children made it into this tree, including Mariah and Kaver and Cabot-Sirocco.  There seems to be a falcon magnet within its' branches!  My friend Patty from Canada requested that I include a picture of this tree in my next report.  Here it is Patty!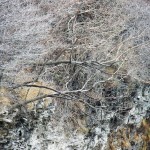 There were small Christmas Trees all over the High Falls area decorated in all different colors.
At 11:50 pm, my phone received a tweet.  It was from Larry O and he was at the BS location and had spotted a falcon.  I immediately headed back over there.  I needed to get my falcon fix for the day!
When I arrived at BS at 12:40 pm, Larry was gone and I quickly found one falcon on the NE extension and it was Pigott.  I circled the building hoping to find BST.  When I came back to where Pigott was, I finally spotted BST.  He must have flow in while I was driving around.  BST was very close to Pigott on the NW corner.  It wasn't long before Pigott flew over BST and landed on the SW corner, just to his right and that's where they remained until I left a little after 2:00 pm.
On my way home, I stopped downtown for one last look for Beauty.  After driving around the whole downtown area and not seeing her, I ended up on the Andrews St Bridge.  Where was she?  At 2:20 pm, I tweeted that I was heading home and that I had no luck finding Beauty.  Before leaving, I checked the area one more time with my binoculars and THERE SHE WAS!  Beauty was on the Hyatt at the SW corner (river side).  This is becoming a favorite spot for her this winter.  I was very happy to see her.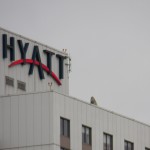 It was so great seeing all three Rochester Falcons both weekend days.
While I was on the pedestrian bridge at High Falls, I took a video of the area.  It is such a beautiful place and brings back such good memories of watching Mariah and Kaver and their young ones learning to fly and hunt there.  This is where Rhea Mae, Quest and Linn learned from their parents how to be successful Peregrine Falcons. 

If you would like to see it, just click on the link below.  Enjoy!