A Sunday Afternoon Falcon Watch - 12/23/12 - Falcons Seen Today: Beauty, Pigott & BST
By Rochester Falcon Watcher Carol P.
Today was much more pleasant than yesterday, with lots of sunshine.  Still really cold, but the sun was very enjoyable.
Here are my tweets from today, plus the tweets of the other Falcon Watchers that do not post their own reports:
11:40 am - Carol P - "At KP. Tag I'm it! No falcons seen here. Cold with snow on the ground with the sun playing peek a boo thru the clouds."
12:10 pm - Carol P - "DT. I was on Court St checking out the FCT when a falcon in from the west heading towards the TSB. Looking now."
12:20 pm - Carol P - "DT. Found Beauty on OCSR top Ibeam NE side."
1:10 pm - Carol P - "BS. Have driven around the bldg twice now and have found no falcons. All quiet."
1:20 pm - Carol P - "BS. A Coop just flew thru no challenge from Pefas. Would love to know where they go when they arent here. I've looked but cant find them."
2:10 pm - Carol P - "BS. Lisa Mck and BST here now."
2:30 pm - Carol P - "BS. Both here now. Lots of ee chupping!"
2:37 pm - Brian H - "DT. Have a pefa on the NW corner of chase lincoln bldg. B? I havent seen a bird up there in a long time."
2:40 pm - Carol P - "BS. Lisa & I think this is BST at East end. Now we cant find Pigott."
2:48 pm - Brian H - "DT. No other pefas seen.  Bird did a hunt stoop, now on brick bldg on main st across from old Niesners bldg."
3:11 pm - Brian H - "DT. Brian reported 2:57 pm: Bird is on Alliance bldg. 183 E main st at the corner of Stone st. Its on the scalloped decoration on top of bldg."
3:20 pm - Carol P - "BS. BST flew to a window on the SW ext and now has prey. May have been cached."
3:21 pm - Carol P - "BS. Pigott back. BST still eating."
3:40 pm - Joyce - "DT. Checked everywhere…can't find B. Brian and I heading to ASB."
4:00 pm - Carol P - "BS. Come to find out it was P eating not BST. Both at east end now."
4:30 pm - Carol P - "DT. Beauty is tucked into her nighttime roost. OCSR elevator shaft south ledge. Night Beauty! All 3 seen today makes it a good day!"
**********************************************
Lots of tweets today! They really tell the tale of what was seen this afternoon.
My first check was KP, but I had no luck finding any falcons there.
I arrived downtown at about noon.  While I was on Court St checking out the Frontier Communication Tower (FCT), I saw a falcon fly in from the west.  Following the best I could, I eventually found Beauty on the top IBeam of the OCSR on the NE side.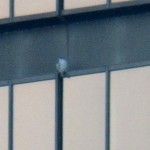 *
*
*
*
*
Beauty seemed pretty settled, preening and looking about her territory.  Time for me to go check on Pigott & BST.
I arrived at the BS location at about 1:00 pm, but it wasn't until 2:00 pm that Lisa McK joined me and BST flew in.  We found him on the NE corner of the building.  He flew off to the east and a falcon came back towards the building.  It was Pigott and she landed in the same spot BST had just vacated.
At 2:30 pm, Pigott started to hunker down and ee-chupped away.  This was her reaction to BST coming back in from the east.  She watched his flight in  and over her vocalizing the whole time.  After he passed overhead she followed.  To me it seemed to be a greeting.  They really do seem to be bonding or at the very least are accepting each others company, but no mating has been witnessed yet.  Will definitely be interesting.
Eventually Pigott returned to the SE corner.  She then flew to the top window on the east side of the NW extension at 3:20 pm.  She kept looking down at something, but I couldn't see what had her attention.  Finally she jumped down to the window below her and I saw a chunk of snow fall off.  When I checked through my binoculars, I could see she had prey, but I couldn't be sure if she had just caught the pigeon or if it was cached prey.  Had to be cached prey.  Can't believe that a pigeon would just sit there below her.  She dragged the prey to the other side of the windowsill and ate her fill.  While she was eating, BST had returned to the NE end of the building.  From there, he would not have been able to see her.
*
*
*
*
At 4:00 pm, Pigott finished her meal and flew over to the east end of the building landing on the SE corner just across from BST.  I have never personally seen BST eat anything while at the BS location.  Never seen him beg for food from her like I've seen other Tiercels do over the years.  Very interesting.
*
*
*
*
*
In these pictures, you can really see the size difference between them.  That's where I left them to go search for Beauty one more time before heading home.
At 4:30 pm, I found Beauty tucked up inside the OCSR elevator shaft on the south ledge. Night Beauty!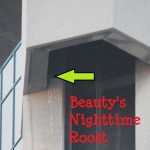 *
*
*
*
*
So, it was another good day with all three Rochester Falcons seen!  Love that! 

I'll leave you with a couple pictures taken during my Watch today and remember to click on any picture you would like to see in a larger version.  Thanks!