Mourning watch 12-24-12
By Rochester Falcon Watcher MAK
No it's not a misprint- I spelled it mourning because before I left the house this morning for my watch I heard of shootings of 4 firemen as they showed up to put out a fire in Webster. I dedicate this report to the victims and families of all involved.
As I drove thru the intersection at Broad and Exchange streets I spotted Beauty up on the money bag of Mercury. As I got up on the Broad St. Bridge (BSB)and made my u-turn she was gone.  As I drove around the east side looking for her I found that there were many crows in the trees of Washington Square Park. So much for the scare tactics of the city to move them out of there. Then as I drove down Broad St. near the South Ave. garage I saw crows in the trees of Cornerstone Park where I never saw them  in the past roosting there. 30 minutes after arriving on the BSB Beauty landed on the south corner top ibeam of the OCSR building.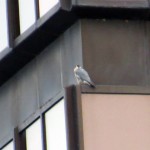 LarryO came by with his new rescue dog Harold and we were introduced. He's very skittish with tail tucked waaay up underneath him but he did allow me to pet him on my second attempt. Good Luck Larry I'm sure you will have him socialized and happy as quick as possible.
Beauty took off after only 10 minutes and I never saw her again. I drove to Brighton and  never had a falcon show up in 3 hours. Larry was there running Harold on a long leash when I got there. I did see my deer friend again on the opposite side of the building as yesterday.
I ended my watch around 11:30am. Keep smiling everyone even if you don't want to!

The link for 1 video of Beauty on OCSR today is below