Christmas morning watch 12-25-12
By Rochester Falcon Watcher MAK
Merry Christmas everyone! Happy to have you join me on my watch this morning as a pretty couple inches of fresh snow fell overnite assuring us a white Christmas.  I arrived on the Broad St. Bridge(BSB) about 5 minutes before Beauty showed up on the outstretched money bag hand of Mercury. At 7:25am she flew in from the north landed long enough to shake herself and then she was off again flying east.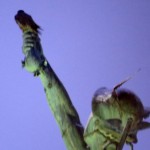 I went for a drive to the east side to look for her and as I came back to the BSB I spotted her flying downriver with prey in her talons past Mercury and disappearing behind the Thomson Reuters building. I then looked for her on that side of the city but I never did find where she went with her Christmas breakfast so I set out for the Brighton Site(BS). As I rounded the back of the building to the east side I spotted BST first on a southwest corner and as I stopped the car he flew to a south side window ledge.
I shared space with him for half hour as he preened and looked around here and there. I also saw my deer friend in the same spot as yesterday only she was standing today. I'm no expert but I'd say she is pregnant judging by the plump tummy she has.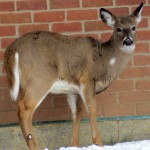 I was in the neighborhood of Strong Memorial Hospital so I went there to give a Christmas visit to Joyce. She was doing pretty good and had convinced them that she could go home today.

After I left I returned to BS for a quick drive thru and I found Miss Pigott at home perched on a southwest corner.
I didn't stay long for I had to get  home but as I drove down Exchange St. approaching Broad St. I noticed a bump on the top ibeam southwest side of OCSR. Yay, it was Beauty so of course I drove down to the hole(AqueductSt.) to take pics and video before ending my watch for the second time. lol
So there you have it folks-all 3 current resident Rochester Peregrine Falcons seen giving this watcher the best gift I could wish for. Do ya think I left for home smiling!? You betcha!

Links for video of  Beauty,BST and Pigott are provided below-just click em and watch
http://youtu.be/yTQjsO1wvAY
http://youtu.be/19C6TGcxykc
http://youtu.be/21pooTaQqh4