Merry Christmas Beauty, Pigott & BST and all their Fans! - 12/25/12 - All 3 Rochester Falcons Seen Today!
By Rochester Falcon Watcher Carol P.
A Very Merry Christmas to all you Falcon Fans out there.  I only had a couple hours this afternoon to go out and find Beauty, Pigott & BST and find them I did, plus a few of their friends.
Today's Tweets - Mine and those from the other Rochester Falcon Watchers that do not post their own reports:
10:50 am - Larry O - "since there is a vacuum in Falcon watching, Harold and I are going to start hitting the road and looking."
11:30 am - Larry O - "1 Falcon and the southwest corner of the Hyatt building. Downtown."
11:31 am - Larry O - "Harold has found his first Falcon."
11:40 am - Carol P - "A new falcon watcher dog is born! You go Harold! : )"
11:41 am - Larry O - "leaving downtown. Headed to BS for Falcon watch via strong."
12:50 pm - Larry O - "BS Falcon watch. 1 Falcon on Northeast Extension but gone already."
1:00 pm - Larry O - "BS Falcon watch. Just had a falcon fly around from the east side to the south side, but I don't see it now."
1:01 pm - Larry O - "BS Falcon much. 1 Falcon on Southwest extension."
1:10 pm - Larry O - "BS Falcon watch. Successful hunt. The Falcon left the Southwest extension and flew southeast."
1:11 pm - Larry O - "BS Falcon watch. Then the Falcon changed direction and headed north over Cobbs Hill Park."
1:11 pm - Larry O - "BS Falcon watch. The Falcon started it's stoop and dove to just above the treeline."
1:12 pm - Larry O - "BS Falcon watch. It caught something and flew back to the building. It is now cleaning the meal. I believe it was a pigeon."
1:20 pm - Larry O - "BS Falcon watch. The second Falcon just arrived to the southwest extension also."
1:40 pm - Larry O - "BS Falcon watch. Still have 2 Falcons. Hunter is just about finished cleaning the meal."
2:30 pm - Carol P - "BS. Lots of watchers visiting. Been here for awhile watching P&BST. Larry O with Harold, Lisa Mck & Joyce & Steve were here!"
2:40 pm - Joyce - "A falcon fix on Xmas day. Can't get better than that. Pigott and BST on the corners of the SW extension. Yea!"
2:50 pm - Carol P - "BS. BST went over to P and tried to get some of her meal. She mantled it and ee chupped just a bit. BST went back to his corner no food."
2:51 pm - Carol P - "BS. P flew to a window on the south side. BST went to food and is now eating. Thats a 1st for me."
3:00 pm - Carol P - "BS. Both P&BST settled on west end of the bldg. Time to go."
3:20 pm - Carol P - "DT. A quick drive thru DT on the way home. Found Beauty preening on the SW corner of the Hyatt. All quiet. Merry Xmas B, P & BST!"
***************************************************
I arrived at the BS location first today because I wanted to meet Harold, Larry O's new family member.  Larry had been reporting that he saw Pigott successfully hunt  and that she was enjoying her meal on the SW extension (SE corner).  BST was just across from her on the SW corner patiently watching her finish her meal.  Lisa McK arrived and we studied the feathers that had fallen to the ground from Pigott's plucking.  The consensus was pigeon.  Harold is very timid right now and very sweet.  It will take awhile for him to warm up to us, but I have no doubt that he will.  At one point, he leaned against me.  I took that as a very good sign! 

Larry and Lisa left me and soon after Joyce and Steve arrived.  She looked great, just getting out of the hospital with a broken leg.  Speedy recovery Joyce!  She got her falcon fix, seeing both Pigott and BST before she and Steve headed home.  Again I was alone.
Recently I had reported that I had yet to see BST eat or attempt to get food away from Pigott.  Well, that changed today.  Pigott finally finished her meal and just stood on the corner over the remainder.  BST flew over to her, a couple feet to her left.  She watched his every move.  BST flew across the roof line to just behind her.  I couldn't see him, but I knew he was just behind her because she faced in that direction, spread her wings and mantled her food.  There were a few soft ee-chups, and finally BST took off and went back to his corner with no food.  Pigott stood straight up again and turned toward BST.   They looked at each other.  There was no vocalization, but it was like Pigott gave in and took off, without the prey, and landed on a nearby windowsill.  As soon as she took off, BST flew to her corner and started eating what was left.  Well, that was a first for me with these two.
*
*
*
*
*
*
*
*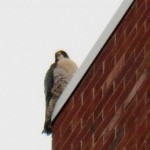 *
*
*
*
*
There probably wasn't much left, because it didn't take BST long to finish.  Both Pigott and BST ended up on the west end of the building.  At 3:00 pm, I left the BS location and headed downtown.  I hoped to find Beauty before I headed home for the day.  and yes the deer was there in the same spot, lying down, definitely in a protected spot from the wind.  She is very attentive to everything around her.  Is she pregnant like Brian and I think might be possible?  Time will tell.  Guess we've kind of adopted her and will keep an eye on her.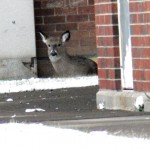 *
*
*
*
*
At 3:20 pm, from the Broad St Bridge, I found Beauty up on the Hyatt on the SW corner, the same place Larry had seen her earlier.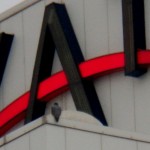 *
*
*
*
*
I was very happy to find all three Rochester Falcons this afternoon, making it a very good day!  After finding Beauty I had to head home.
I'll leave you with a few pictures from today.  If you would like to see a larger version of that picture, just click on it.  Thanks!
*
*
*
*