Morning watch 12-26-12
By Rochester Falcon Watcher MAK
It was a slow start as I looked for and waited in vain about an hour for Beauty. No show so I drove to Brighton(BS)  and waited some more. Falcon watching takes a lot of patience sometimes but eventually a falcon appeared and landed on a southeast window ledge after first landing on a southwest corner.
At the time I thought it was BST but after reviewing my pics on the computer I can say for sure that it was Pigott. She did some preening and head bobbing for half hour then she flew south only to return momentarily and land on a southwest corner.
The deer that has been seen hanging around by the building for the last 3 or 4 days was not around anywhere. 10 minutes later Miss Pigott flew toward the front of the building  out of view.
When she didn't return I drove around and found her on a west side window ledge near where what's known as "the nook " is located. I left her and a little over an hour later upon returning to downtown I found Beauty on the southwest corner of the Hyatt Hotel.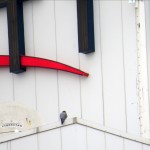 The Beautyful one kept her back to me as she side stepped to her left  just off the corner. I had to run some errands before the big storm hit so I ended my watch at this point.  Hopefully I will be able to get out in the morning to check on our beloved falcons, until then keep smiling!

I have provided 2 links for videos from todays watch