Morning/afternoon watch 1-4-13
By Rochester Falcon Watcher MAK
It was not near as cold out this morning as yesterday when I left for downtown. I parked on the Broad St. Bridge north side facing the Times Square building as I do every morning and waited for some action. 30 minutes went by when the aqueduct roosting pigeons came flying up from under the bridge going at a good clip and right behind them-Beauty. They all made there way upriver southbound and disappeared behind the Blue Cross Arena(BCA). 10 minutes later the pigeons made their way back and landed on the roof of the BCA. I hoped that this meant Beauty had caught one and was eating somewhere. I went for a drive to look for the Beautyful one and I found her as I stopped on the Andrews St. Bridge. She was on the top ibeam northeast side of OCSR so I left for closer viewing by the Radisson Hotel.
Judging from the bulging crop I'd say Beauty had herself a nice big breakfast. I stayed with her about 30 minutes and headed off to the Brighton site (BS) as I knew she wouldn't be going anywhere for a while. Nobody was home at BS so I got settled in to wait for them. It was very windy with gusty bursts that would create white out conditions at times. The road was drifted over in spots as well. Over an hour passed and I decided to go back downtown to make sure Beauty didn't blow away. lol She was in the same spot as when I left her- digesting that big meal.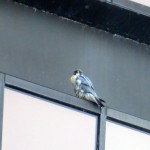 I stayed with her for an hour or so and then I left  to run an errand and get some lunch. I returned to BS a little after noon. FYI-when you turn into the driveway at BS you come to a one way road that goes to the right and circles around the building. The front of the building faces north and the right side is west with the east side being to your left. The back of the building faces south. Now as I came around from the back to the east side I spotted Pigott flying over the building headed north and then I saw BST on the east extension perched on a south facing window ledge.
When Pigott didn't return I took a couple spins around the property but never found her.  I stayed about 20  minutes as I observed BST looking around a lot-most likely watching for his winter mate the divine Miss Pigott. The wind was out of the west and southwest so he was getting blown pretty good up there.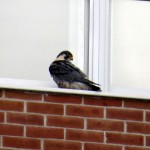 He walked down the ledge a bit then flew over to an east facing ledge below where the roof top tree grows. Now when waiting for a takeoff  shot I always get the subject in view toward the top of the pic because almost always falcons go down first when they leave a perch. Well BST went up this time so all I got was his bandless legs! lol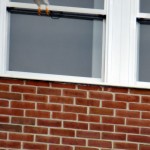 Anyway he would be better protected from the wind over there.
So after close to a 6 hour watch I was successful in seeing all 3 current Rochester Peregrine Falcons-something to smile about for sure!

2 links for videos below-just click and watch