Morning watch 1-12-13
By Rochester Falcon Watcher MAK
We are on tap for a record breaking day temperature wise with a high near 60 degrees fahrenheit! Perfect for a falcon watch and good for falcons as I saw all 3 current resident Peregrines. I took a trip to the east side after I checked the Broad St. Bridge area and as I came back thru Beauty was perched on the outstretched money bag hand of Mercury.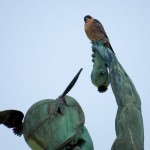 She was in hunt mode looking around her river territory and surrounding area. She stayed less than 10 minutes and then she was off suddenly, flying east.
It was time to catch breakfast as I watched her fly across the river above Midtown circling and then vanishing into the eastern sky. That would be the last I saw of her on my watch as I searched for her unsuccessfully for the next 30 minutes. I left downtown for the Brighton Site(BS) and was happy to see Pigott on the northeast corner as I pulled in the driveway a little after 8:00am.The sun was rising so I had to take a pic before I drove around the building to look for BST.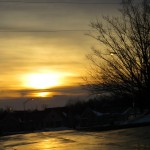 Upon reaching the east side of the building I could see BST up on the southeast corner under the tree and Pigott was strutting her stuff for him.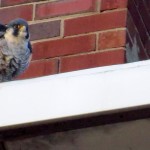 BST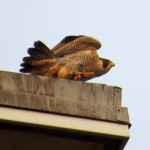 Pigott         Remember to always click on the pics to see a full version
First Pigott flew out and did a little swooping back and forth action in front of us, then BST flew out with her as they both gave this watcher a nice tandem flight display around the east half of the property.
Pigott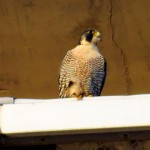 BST
Pigott didn't stay long sneaking out to the south and back up to the southeast corner of the east extension where she stayed long enough to poop,stretch and fly south out of the area.
BST did some shaking and stretching of his own as he was facing me quite nicely for a change.
Just before 9:00am BST flew off to the south and that was the last I saw of him as well. I waited around for a while as a crow perched on a very dirty snow pile was the only bird left  so I returned to downtown. I was unable to locate Beauty so I called it a watch at about 9:30am. I left downtown smiling after a wonderful 2 hour morning falcon watch! 

Links for more pics and 4 videos are below-click and watch
http://share.shutterfly.com/action/welcome?sid=0AaN3DFm0ZMWrTHA