Morning watch 1-15-13
By Rochester Falcon Watcher MAK
What a time I had playing hide and seek with falcons on this mornings watch. I was running a few minutes later than usual and as I sat on the Broad St. Bridge looking for Beauty to show up I got a text from Donna one of our camera watchers. She said Beauty had left Mercury at 7:18am-probably only a minute before I arrived. That should have told me right there what kind of luck I would have for the rest of watch!
I spent the better part of an hour looking for the Beautyful one and about half way thru that time I spotted a falcon near the Liberty Pole as I drove down Main St. I figured it was most likely Beauty as it stirred up pigeons off the old Sibley building and then chased them behind it where I couldn't see them. I also came across a couple guys washing windows at Bausch&Lomb with very long poles.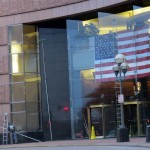 In my travels I stopped by high falls on the east end by the Genesee Brewery-when I first started falcon watching I spent quite a few mornings on the Pont De Rennes footbridge with Dan our longest falcon watching member. He is my mentor whom has taught me a lot and told me some great stories from the Mariah and Kaver era. Spring will bring him back out to watch on the Broad St. Bridge again for a new and hopefully successful Peregrine season.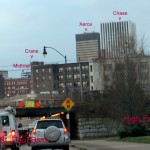 Southbound on St. Paul Blvd. toward the city from high falls. Make sure to click the pic for full version
I left for our Brighton Site (BS) to look for Pigott and BST her unbanded male winter companion. I spent 45 minutes or more searching the building and surrounding area to no avail. I saw wild turkeys again tho!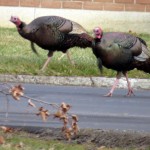 We certainly see a lot more than falcons on our watches here in Rochester,NY! So I returned to downtown and spent 2 hours looking for Beauty. Finally as I drove down Fitzhugh St. toward City Hall I spotted her on the southeast cube of the Frontier Communications Tower. I had to drive over to Plymouth Ave. to get a look at the front of her.
She was checking out her nail polish as I got settled in to watch. A flock of Starlings whizzed by her not once but twice!
I no sooner got a few pics and a video taken when a security guard came running across the street from Frontier saying this is a secure building and what are you doing? He wasn't the regular day shift guard that I know and educated last summer about our beloved falcons. This guard now knows a little bit about them!

As he left me I looked up at the tower to find Beauty had left while I was distracted and the starlings had flown in immediately and laid claim to the tower.
I checked Brighton one last time but it would prove futile as Miss Pigott and BST were not home. So in a 5 hour watch I saw a falcon for a total of about 10 minutes but rest assured I was smiling for all of that 10 minutes!

Click the links below for video of high falls and Beauty