Morning watch 1-16-13
By Rochester Falcon Watcher MAK
It was darker than usual this morning with heavy cloud cover but it didn't stop Beauty from finding and snatching her breakfast. As I was parked on the Broad St. Bridge waiting for her arrival I saw DebbieH drive by on her way to the South Ave. garage to park. 5 minutes after that Beauty arrived on the base of Mercury with a meal.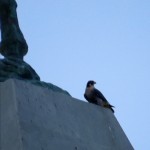 Pat walked by on her way to work at Thomson Reuters and stopped long enough to say it was good to see Beauty. A few minutes later Debbie came by and talked to me for a few minutes while keeping an eye on the Beautyful one as she ate breakfast.
I watched that girl pluck and feast on her catch for over an hour getting feathers stuck to her beak adjusting and re-adjusting her grip and position.
I thought there would be nothing left as her crop got bigger and bigger, but she fooled me and saved a morsel to cache somewhere. Just before 9:00am she moved up onto the green part of the base with her treasure situated herself for takeoff and off she went across the river landing on the Granite/Alliance building.
Beauty rested there a minute or two, moved down to the corner and took off to the south. I watched her until she went in front of  Bausch&Lomb then I lost her behind Xerox as she turned east.
I looked quick on the east side for her and set out for the Brighton site. No luck seeing Pigott or BST for the 3rd day in a row telling me that they have established a new morning routine which doesn't include me. lol I sat and watched there for a half hour before deciding to head home. I stopped downtown on the way and found Beauty on the top ibeam northeast side of OCSR where she likes to digest her meals and from the looks of that crop she would be there a good long time!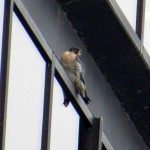 It makes my heart smile to be able to share time with Beauty every day and in turn share with all of you!

For more pics and videos from my watch click the links below
http://share.shutterfly.com/action/welcome?sid=0AaN3DFm0ZMWrTWA
http://youtu.be/h0hlWjmU-Wo
http://youtu.be/T_LgUFxEw3Q
http://youtu.be/c1pbZ4wSyyk
http://youtu.be/8EyHYSo2fr8