A Few Pictures from Tonight - 1/16/13
By Rochester Falcon Watcher Carol P.
Just a quick report and a few pictures to share.
I was out for a little over an hour tonight and saw all three current Rochester Falcons.  Larry O joined me at the BS location for a short while.
Just wanted to share a few pictures I took.  Enjoy!
Downtown - Beauty was on the Frontier Communication Tower below the platform.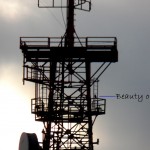 *
*
*
*
*
BS Location - Pigott on the SE corner of the east extension.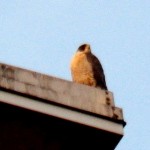 *
*
*
*
*
BS Location - BST on the north side of the east extension two windows down aka the nighttime roost.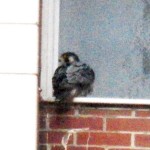 *
*
*
*
*
BS Location - Pigott joined BST on the same window .  She took the right side and he took the left.  Larry joined me for a short while.  As I was leaving my text that they were tucked in for the evening, I could hear them chatting with each other, ee-chupping softly.  They are a joy to watch.