All 3 Current Rochester Falcons Seen This Evening - 1/17/13
By Rochester Falcon Watcher Carol P.
Bitter cold and lightly snowing.  I was happy to find all three current Rochester Falcons while out for a quick Falcon Watch before heading home.
Not much activity, but here are a few pics.  Enjoy!
At BS Location - Pigott on the south side of the east extension.  Snow softly falling.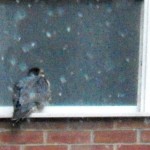 *
*
*
*
*
At BS Location - BST on north side of the east extension, third window down; this is where their nighttime roost is.
*
*
*
*
Downtown - Beauty on Mercury's Moneybag.  She took off soon after I took these pictures.
*
*
*
*
I'll leave you with one of my favorite quotes. This was written by William Beebe, an American Naturalist, explorer and author.
Beebe summed up the value of nature and the necessity for conservation in The Bird (1906), when he wrote,
"The beauty and genius of a work of art may be reconceived, though its first material expression be destroyed; a vanished harmony may yet again inspire the composer; but when the last individual of a race of living beings breathes no more, another heaven and another earth must pass before such a one can be again."
To think we almost lost this beautiful creature, the Peregrine Falcon.  I, for one, am very thankful they still breath.