A Saturday Falcon Watch - 1/19/13 Falcons Seen: Beauty, Pigott & BST
By Rochester Falcon Watcher Carol P.
While MAK, Larry O and Dana were at the BS location this morning, I decided to start my watch downtown.  I found Beauty on the NE side of the OCSR on the top IBeam.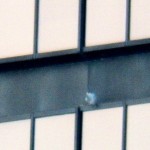 *
*
*
*
*
I stayed with Beauty for awhile, but since she seemed to be settled and preening, I decided to head over to the BST location to join the others.  When I arrived, only Dana remained.  It was very windy and the temps were warmer than the last couple days, but it seemed cold due to the wind.
Dana told me about Pigott going after a gull earlier.  We both remained in our cars to watch both BST and Pigott who were on the east end of the building.  BST was quite content on his tree ledge, preening and dozing.  Pigott was anything but content to remain in one spot.  While we were there, she did quite a bit of flying, always returning to the building on one spot or another.  Quite a few times she landed on the same ledge as BST.  Twice we watched her walk towards BST and he took off, once to another windowsill and once back to the tree ledge where she was located.
*
*
*
*
*
*
*
*
Pigott found some cached food for a quick snack.  Looked like a wing and a shoulder.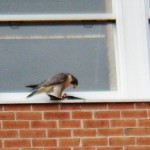 *
*
*
*
*
Both Pigott and BST spent a lot of time on the same ledge or windowsill, but always a few feet apart.
*
*
*
*
During the time I was there, I saw Pigott go after a Red-tail Hawk twice (not sure if it was the same one or not) and two Geese that she almost drove to the ground.  Don't worry, they were ok and way too big to be a meal for this feisty female.  Joyce and Steve joined Dana and I for awhile.  It was great seeing Joyce out and about.  Thanks for taking her falcon watching Steve!
Pigott was very active the whole time we were there.  BST did a little bit of flying, but not much.
*
*
*
*
She was here, there and everywhere!  When she wasn't flying around, eating or chasing things, she was content to just preen and look gorgeous.
*
*
*
*
*
*
*
*
PLEASE CLICK ON ANY PICS YOU WOULD LIKE TO SEE IN A LARGER VERSION, THANKS!
After everyone left, I decided to stay a bit longer.  Pigott was on the SE corner of the east extension and BST was on the tree ledge at the east end.  First Pigott and then BST took off heading east.  I watched both of them start to dive down on a few Crows that were passing through on their way to their nighttime roost.  BST returned to the tree ledge, but Pigott relentlessly chased a Crow back towards the building.  The Crow was flying very fast, but not nearly fast enough to evade Pigott who was hot on his tail.  The Crow flew right up to the back (south side) of the building, between two extensions and Pigott followed.  I lost sight of both of them for a few seconds.  I held my breath waiting to see what would happen.  It seemed forever before Pigott flew out very low and very fast.  She flew over me and did a U turn back to the building landing on the tree ledge a few feet to the right of BST.
I waited to see if the Crow would show itself.  Was it hurt?  Finally, the Crow flew out from the building heading south over the wooded area.  Whew!  I was really worried that the Crow had been injured.  I was happy to see that it survived.  Hopefully learning a valuable lesson.  Never bother a Peregrine Falcon!  Avoid them at all costs! 

It was a fun Saturday watch with lots of action.  Tomorrow will be much colder and very windy, with wind gusts over 50 mph.  Brrrrr!  Hang on to your hat and keep your eyes to the sky!