Morning watch 1-23-13
By Rochester Falcon Watcher MAK
Another cold morning in Rochester with a temperature of 7 degrees fahrenheit (-14 celcius) and a wind chill of -5 when I left the house at 7:00am. The wind was much calmer than yesterday so it didn't feel as harsh and my fingers didn't get as cold as yesterday! lol That being said, my camera still thought it was too cold for picture taking and gave me trouble focusing, so todays photos and videos are not too good.
So my watch started on the Broad St. bridge spotting Beauty on the south corner of OCSR top ibeam. I drove to Main St. next to the Radisson Hotel to view her. I just got started taping her when she dropped off into a stoop down in the river out of my field of vision only to fly back up empty taloned and headed southeast upriver. I drove around looking for the Beautyful one and found her back on OCSR about 30 feet further down on the top ibeam from where she had previously been. This time I parked down on Graves St. between Aqueduct Park and the Canandaigua National Bank and Trust-a favorite spot of mine.
Beauty and I shared space for an hour as I watched people go by with one guy stopping to ask if I was watching the falcons. I said I sure am and pointed out where Beauty was on the OCSR building. He thanked me and continued on.
The sun was shining very brightly upon our beloved downtown Peregrine Falcon adding to my difficulty to get a good shot of her when all of a sudden 3 police cars pulled up behind me. They got out of their cars with hands on guns in the ready position and they were looking right at me! I stuck both hands out of my window and asked if they were there for me. The female officer said yes and asked what I was doing with the camera. I explained and pointed out Beauty up on OCSR plus showed them a pic of her on my cameras LCD screen. As the 2 male officers checked the contents of my car she explained that the employees of the bank were nervous after seeing me with my camera-they thought I was planning a bank robbery! lol  I was then asked how long I would be there and told that they (cops) didn't have a problem with me being there but that maybe I should find another place to watch from. I said no problem and left. Sheesh, what a girl has to go thru to watch falcons sometimes!

I then decided that Beauty was settled for a while so I left for the Brighton Site. Upon arriving there at 9:15am I found Mr. BST on the east extension 2 window ledges down from the top. He was wide awake checking out the airspace and preening his gorgeous feathers.
Today when a plane flew overhead BST had something to say while staring at it. I so wish I knew what he said!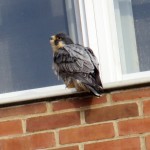 About half hour later fellow watcher Barbara stopped by for a couple minutes and as I was talking to her she saw BST fly across the way to another window ledge. I couldn't see him from where I was parked so I moved up and Barbara left.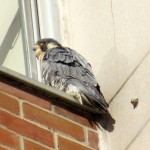 I departed soon after myself, checking downtown for Beauty before ending my watch. There's a place to pull over on Exchange Blvd. by the river opposite Cornhill where I sometimes stop to take a look at the city for falcons. I took a pic from there to show you the view.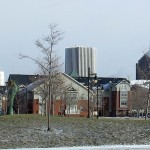 Make sure to click this and all of my pics for a full version
As I got to the Broad St. Bridge I could see that Beauty was still in the same spot  I left her earlier. She was enjoying the little bit of warmth the sun could provide on this cold late January day.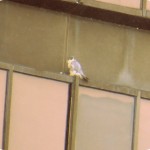 No Pigott again today for me but it's all good because she has been seen in the afternoons. I left downtown thinking about my encounter with the Rochester Police officers and the thought of me robbing a bank. I'm sure you know that made me smile!!

I have provided links for 4 videos below-click on them to view
http://youtu.be/8GEodYugzYo
http://youtu.be/Tcw2n0prmqA
http://youtu.be/dhQzPL-jZzo
http://youtu.be/w-aaMIWmJDY