Late Afternoon Falcon Watch - All Seen (4-5 pm) - 2/6/13
By Rochester Falcon Watcher Carol P.
Just a quick update and a few pics from today.  I was able to quickly find Beauty on the Mercury Statue's moneybag.  The sun was shining, but it was really cold.  Beauty was all poofed up keeping warm.
*
*
*
*
At the BS location, I found BST on a window on the southeast end of the building.  He was on window below the tree ledge.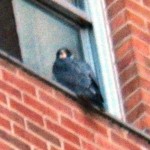 *
*
*
*
*
On the north side of the east extension, I found Pigott on a window at their nighttime roost.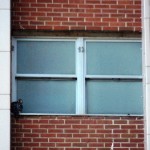 *
*
*
*
*
I was really happy to find all three current Rochester Falcons before heading home for the evening.  All was peaceful while I was on Watch.